| | | |
| --- | --- | --- |
| | | (Japanese: インキュロイド) |

GENDER
male robot
VOICE RANGE
solid: G2~G4
RELATED CHARACTERS

kamui yoshida (friend)

AGE

2

GENRE
any, but his voice is better at being soft than powerful
HOMEPAGE
RIGHT HERE!
WEIGHT
20lbs
CHARACTER ITEM
sweets/cakes (mainly pancakes)
CREATOR
Inkyuma
HEIGHT
5"4
VOICE SOURCE
Inkyuma
PICTURE LINK LIST
N/A
BIRTHDAY
10 June
LIKES

cute guys.

cats.

hugs/cuddling.

anything sweet.

MEDIA LIST
soundcloud
RELEASE DATE
10 june 2015
DISLIKES

thunder.

when people mistake his antennas for bug or alien antennas

large scary dogs

EXAMPLE SONG
Ai no Uta
PERSONALITY: entirely harmless. enjoys a quiet and conflict-free lifestyle. he knows how to control his temper, but has no problem sticking up for himself. easily falls in love, and has a massive sweet tooth.
Supplemental Information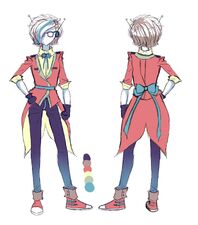 Hair color: white with hints of mousy blonde. has a dyed streak that changes colour depending on voicebank (SOLID: cyan blue, SPRING: green, SUMMER: hot pink, AUTUMN: orange, WINTER: purple)
Eye color: Red. his pupils are in the shape of numbers respective to the current version of his voicebank. for example, his right eye has a '2' and his left eye has a '0' because he is version '2.0'. when 2.1 is released, he will have a '2' and '1'
Dress/Clothes: changes depending on voicebank (SOLID can be seen on the right). append designs are yet to be released
Nationality/Race: manufactured in England
headphones: teal headphones built into his body. they have antennas poking out of each side
configuration
'Inkyuloid solid 2.0' has been released!
this bank is recorded with a much higher quality microphone
inkyuloid solid's breath endings are written as 'a R', 'i R, 'u R' etc...
this new bank also has 6 extra-long vowel recordings that can be attached to another note. these recordings are meant to make long sustains more human when using resamplers that do not loop, and are written as 'AA', 'II', 'UU', etc.
Usage
themes of gore or adult content ARE allowed
you CANNOT redistribute his voicebanks under any circumstance (including edits of the voicebanks)
if you use inkyuloid for anything, please send it to inkyuma via her tumblr or inkyuma@gmail.com! (this isn't a rule, i'd just like to see you guys' stuff)
Gallery
(these pictures are all drawn by inkyuma, but if you do fanart, it can be added to the gallery if you wish)
Download
Ad blocker interference detected!
Wikia is a free-to-use site that makes money from advertising. We have a modified experience for viewers using ad blockers

Wikia is not accessible if you've made further modifications. Remove the custom ad blocker rule(s) and the page will load as expected.