Isao Aoi


(Japanese: 勲 - 葵 - Isao Aoi)                                                                  
NAME INTERPRETATION:
Englis, Aoi Isao
Japanese, Isao Aoi
勲 (Isao, honor, merit)
葵 (Aoi, blue)
TYPE: UTAUloid
MODEL:
GENDER
Female
VOICE RANGE
Unknown
RELATED CHARACTERS

[Ryota|Isao Ryota] , big brother

AGE
13
GENRE
Classic, Soft
HOMEPAGE
Ryu Drakita
WEIGHT
 

100 lbs (45 kg)

CHARACTER ITEM
Boxes
CREATOR
HEIGHT / MEASUREMENTS

4'8 ft (147 cm)

VOICE SOURCE
Kanna
PICTURE LINK LIST
DEVIANT ART
BIRTHDAY
Desember 9, 2000
LIKES
Cute things, hiding, flowers, animals
MEDIA LIST
NICO NICO DOUGA, YOUTUBE
RELEASE DATE
September 9, 2013
DISLIKES
monsters, scary people, loud noices
SIGNATURE SONG
Interview

PERSONALITY: For this little girl, she's quite shy and easely embarrased. Even as she loves to be an idol and singing, she doesnt like to get too much attention. As soon as it gets too much of her, either by attention or scary things happens, she tries to hide herself whereever she can.

She continues as an idol because her older brother Isao Ryota are in the same idol group. and she wont let him or herself down just because she's shy.
Character Design
Hair color: Spring green
Eye color: Sea blue
Earphones: Headphones with microphone
Dress: Simple yet unique clothing, long arms, pink in the middle, mostly blue.
Nationality/Race: Norwegian
Voice Configuration
act 1
act 2
Character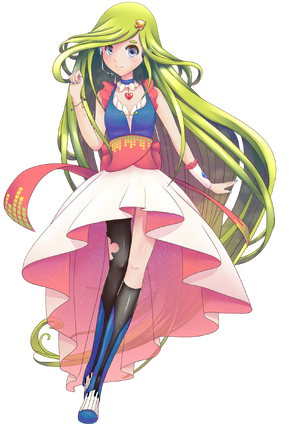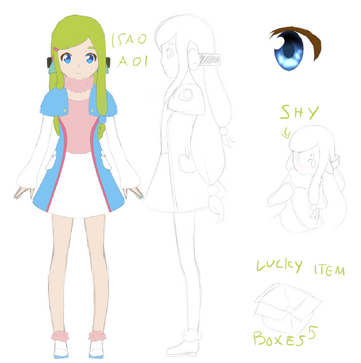 Ad blocker interference detected!
Wikia is a free-to-use site that makes money from advertising. We have a modified experience for viewers using ad blockers

Wikia is not accessible if you've made further modifications. Remove the custom ad blocker rule(s) and the page will load as expected.