Ad blocker interference detected!
Wikia is a free-to-use site that makes money from advertising. We have a modified experience for viewers using ad blockers

Wikia is not accessible if you've made further modifications. Remove the custom ad blocker rule(s) and the page will load as expected.
Itagaki Tsuneyoshi




板垣 常吉

NAME INTERPRETATION:
板垣 (Itagaki) 常吉 (Tsuneyoshi)
TYPE: UTAUloid
MODEL: K-UTAU
GENDER
Male
VOICE RANGE
A#2~F4
RELATED
CHARACTERS:
AGE
Around 410 years old
GENRE
Pop
HOMEPAGE
http://k-utau.blogspot.co.id/
WEIGHT
Unknown
CHARACTER ITEM
Broken Katana
CREATOR
Older Version ~ Ichimonji25, Newer Version ~ Kurokamine (The Same Person)
HEIGHT
176 cm
VOICE SOURCE
Michiyo Nakamura (Kurokamine)
PICTURE LINK LIST
Not available
BIRTHDAY
Created in 1607 or 1608, renewed in 16 February 2016
LIKES
Edo, Edo-Themed House, Edo-Themed Things (Ex. Old Japanese Katana, Hairpins, Kimono, etc)
MEDIA LIST
SoundCloud http://www.soundcloud.com/kurokamine
RELEASE DATE
21 February 2016
DISLIKES
Blunt Katanas
SIGNATURE SONG
Himitsu ~Kuro no Chikai~
ADDITIONAL INFO: He is a male counterpart of Michiyo Nakamura which have been planned even before Michiyo's birth, but then, Michiyo's birth is slightly unpredicted, because it happened suddenly
Supplemental Information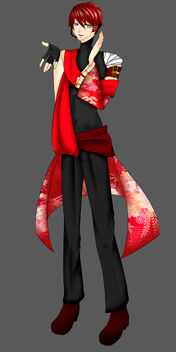 Appearance
He is wearing a Modern Designed Red Kimono with Flowers Pattern.
Instead of wearing Geta, he wear dark red/maroon shoes
He wears bandages on his left shoulder, and also a half red kimono sleeve with flower pattern
He wears black / dark grey thin glove on the right hand
He usually wears Long Blood Red Scarf
Downloadable Voicebanks
Related Character
Covered Song