JU-02 MARU

(Japanese: JU-02 丸 – JU-02 マル– JU-02 MARU)

NAME INTERPRETATION:
JU-02 (short for JapaneseUTAU-02; Not his model)

まる (Maru; Round/Zero/Emptiness)

Pronounce Name: Jyuu-ni Maru/ Ziiyu-Zeni Maru

TYPE: UTAUloid

MODEL: 0 – Unknown where is that writen/imprinted

GENDER

Male

VOICE RANGE

A3

RELATED CHARACTERS

AGE

12

GENRE

UNKNOWN

HOMEPAGE

WEIGHT

38 kg

CHARACTER ITEM

Teru-teru Bozu

CREATOR

Miru-kun

HEIGHT

145 cm

VOICE SOURCE

Miru-kun

PICTURE LINK LIST

DeviantART, Tumblr

BIRTHDAY

September 7

LIKES

Doing nothing, Sunny Days, Sea

MEDIA LIST

Youtube, SoundCloud

RELEASE DATE

June 17, 2013

DISLIKES

Cloudy Days, Snake, Rainy Days

SIGNATURE SONG

PERSONALITY: Maru is a boy who every time can doze off if he not doing anything. He hate rain, so, he always grab Teru-teru Bozu--people in japan trusth Teru-teru Bozu can avoid rain. He adores Chicilla. 
Supplemental Information
Hair color: Dark Brown
Eye color: Redish Brown
Earphones: Square-Shaped-Like with thick brown strips
Clothes: White Cheongsam-Look-Like
Pants: Brown
Nationality/Race: Indonesian/Japanese
Official Character Design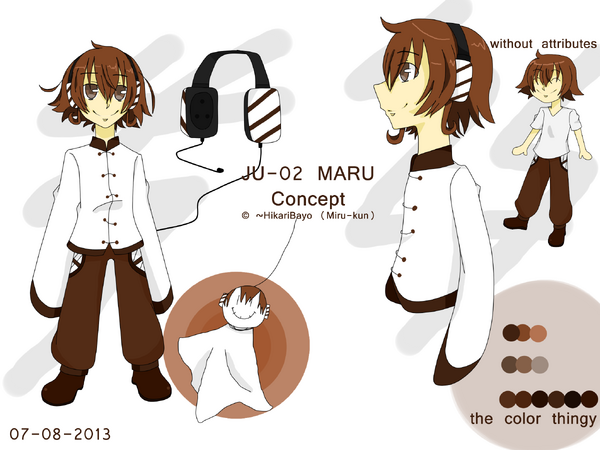 Voice Configuration
ACT 1 Download  – The Author tought that the oto.ini is quite not right. And sometimes, his voice crash. (When that happen, lower the volume ; ex: 100 to 98)
ACT 2 – N/A
Trivia
MARU is the only UTAU that the voice sample doesn't use change pitch.</li></li></li>
The Author accidently set MARU's birthday coincided with Author's cyber-little sister day of death.
</li>
Please don't change this page without the Author's permission. This article is written and certified true and correct by the author of the character. The details seen here may be subject to change without prior notice.
</li> </li>
Ad blocker interference detected!
Wikia is a free-to-use site that makes money from advertising. We have a modified experience for viewers using ad blockers

Wikia is not accessible if you've made further modifications. Remove the custom ad blocker rule(s) and the page will load as expected.