Jinx Nyota


(English: Jinx, Irish: Nyota - Jinx Nyota)

NAME INTERPRETATION:
Jinx - (Harbinger of misfortune)

Nyota - (Star in Irish)

TYPE: FURLOID
MODEL: NONE
GENDER
MALE
VOICE RANGE

G2~F#5

Notes above optimal range should be used sparingly.

RELATED CHARACTERS

(Fiancé)

Mooza Kemono (Friend)

(Friend)

AGE
17
GENRE
Any (Primarily Rock)
HOMEPAGE
WEIGHT
133 lbs.

(33.61 kg)

CHARACTER ITEM
Star Stickers
CREATOR
magicoone

HEIGHT /

MEASUREMENTS

5'11" feet (180 cm)

VOICE SOURCE
magicoone
PICTURE LINK LIST
BIRTHDAY

5/16

LIKES
Pizza, Cross Dressing, putting Star Stickers, The rain.
MEDIA LIST
Furaffinity
RELEASE DATE
N/A
DISLIKES
Onions, Cheaters, Liars, Going Out
SIGNATURE SONG
N/A
PERSONALITY: Hopelessly romantic, open-minded, playful, understanding, emotional, submissive, also possesses feminine tendencies. Although Jinx is one fursome he has two different forms Wolf and Puppy they both sing in different ways, but can work together nicely.
Supplemental Information
Hair color: Black with green highlights.
Headgear: Organic, canine-like ears.
Eye color: Red.
Earphones: None.
Body: Jinx has three claw marks on both sides of his upper arms, his nose, stomach and chest as well as the tip of his tail are a darker shade of grey from the rest of his body, He is slender in build with slight feminine curves and has slight muscle definition on his upper arms. Jinx's eyes are drooped slightly so he always appears a little sad or mellow, but for the most part is happy and sincere.
Clothing: A red neck bandanna, a torn orange top (tank top like), black parachute pants with yellow trims at the bottom, with a white belt and yellow star buckle, he also always has a star sticker on his left cheek, but can be seen wearing additional anywhere on his person. (Despite this he can be illustrated wearing anything, preferably androgynous otherwise for comedic effect.)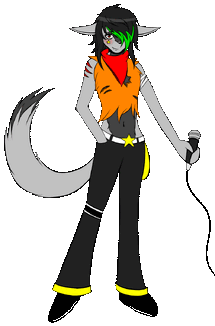 Optional:
Vocaloid arm warmers that are black with yellow trims.
Black Shoes.
Nationality/Race: British/Wolf
Favorite Phrase: N/A"
Voice Configuration
--- All Users Please Note Jinx Nyota is Private Distribution. Ask Magicoone of FA for the voicebank. ---
Jinx Nyota ($TAR-L!TE): Jinx's Core Voice Bank. It is incomplete. Has extra sounds and is compatible with most songs. It's clear, though users should keep tabs on volume.
Jinx Nyota (Append-Whimper) : Jinx's first append. Suited for sadder; slower songs.
Jinx Nyota (Append-English): Jinx's English Voice Bank. It's still a work in progress.
Jinx Nyota (Append-Bitch): Undisclosed Genderbend Append, ask user for voicebank.
Jinx Nyota (Append-Howl) v0.5: Jinx's more solid influenced bank recorded with his old microphone.
Jinx Nyota (Append-Howl) v1.0: Jinx's older solid voicebank recorded on his newer microphone.
Jinx Nyota ($TAR-BR!TE): This was suppose to be an Act 2 of his original voicebank having a much softer tone of voice and being less harsh then the original, however I do not consider this an improvement.
Jinx Nyota ($TAR-SH!NE): Is suppose to be Jinx's Act 3 bank, however due to losing the voicebank data this voice bank was never released and no longer exists.
Notable Works
Soundless Voice (Jinx Nyota Act 2 ($TAR-BR!TE) Demo)
Hello/How Are You (Jinx Nyota (Append-English) Demo)
Kane o Narashite (Jinx Nyota Act 1 ($TAR-L!TE) Demo)
Poker Face (Jinx Nyota Act 3 ($TAR-SH!NE) Demo)
Contact Details
Skype: magicoone Email: magicoone@hotmail.co.uk
Usage Clause
Redistribution and reuploading of this voicebank requires prior permission. Redistribution of the edited/modified voicebank requires prior permission.
Please refer to any voicebank's readme.txt for further information regarding the Usage Clause. Thank-You.
This article is written and certified true and correct by magicoone, the creator of Jinx Nyota. The details seen here may be subject to change without prior notice.
Ad blocker interference detected!
Wikia is a free-to-use site that makes money from advertising. We have a modified experience for viewers using ad blockers

Wikia is not accessible if you've made further modifications. Remove the custom ad blocker rule(s) and the page will load as expected.