Johatsun Kikuro




じょはつん きくろ

NAME INTERPRETATION:
Comes from author's name; author's fursona
TYPE: UTAUloid, FURloid (Brown Coywolf)
MODEL: None
GENDER
Male
VOICE RANGE
F#2~A#3
RELATED
CHARACTERS:
AGE
20
GENRE
varied/Electronic
HOMEPAGE
https://www.youtube.com/channel/UCgavT1uXAv9kIoVBoZATp_w
WEIGHT
203 lbs (92 kg)
CHARACTER ITEM
none
CREATOR
Biohazard-P
HEIGHT
6'0" (183 cm)
VOICE SOURCE
John Kirk
PICTURE LINK LIST
Not available
BIRTHDAY
January 22nd (release date)/April 30th (voice provider's birthday)
LIKES
Moderately warm weather, the color blue, Electronic Dance Music, chili dogs with onion, sleeping.
MEDIA LIST
Not available
RELEASE DATE
January 22, 2017
DISLIKES
Unnecessary violence, rude and inconsiderate people, feeling lonely, black licorice, olives.
SIGNATURE SONG
None, but does have an official Demo Reel
ADDITIONAL INFO: Kind; somewhat introverted but far from shy; likes to play video games occasionally; bisexual.
Supplemental Information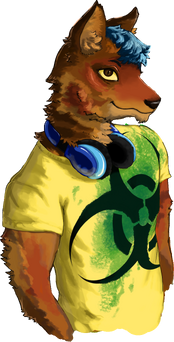 Hair Color: Dark Blue
Headgear: Blue headphones (often worn around his neck)
Eye Color: Dark brown
Clothing: Yellow short-sleeve shirt with dark green biohazard symbol, belt with a flat sign buckle, dark pants.
Nationality/Race/Species: Voice provider is American. Character is a Brown Coywolf (Brown Wolf and Coyote hybrid).
Voicebank Releases
CV Japanese+ 1.0: January 22, 2017
English Arpasing: TBD
An Arpasing voicebank for English has been recorded. It is still in development. No specific release date is currently planned.
Usage Clauses
Covers: OK (No permission needed).
Original songs: OK, but must credit Biohazard-P as the voicebank creator.
Animations, original videos, music videos, artwork, comics, or other visual content: OK, but must credit Biohazard-P and Ashley Calle for the character design.
R18+ artwork, comics, or other mature content: OK, but must credit Biohazard-P and Ashley Calle for the character design.
Using a voicebank or any of the included artwork for or in any sort of public (non-commercial) exposition, event, or display: OK, but must credit Biohazard-P for the voicebank creation and must credit Biohazard-P and Ashley Calle for the character design.
Using a voicebank, the included artwork, or your own derived artwork (see above) to make money or for other commercial purposes: Permission required.
Redistributing or reposting any of the voicebanks (in whole or in part, edited or as they are) publicly online is prohibited.
You may not use the voicebanks or any of the files/data included with them in any way that violates local, national, or international law.
FAILURE TO COMPLY TO THESE RULES CAN RESULT IN THE REVOCATION OF YOUR RIGHTS TO USE THESE VOICEBANKS, THE INCLUDED ARTWORK, THE CHARACTER DESIGN, AND THOSE OF ANY AND ALL PAST, CURRENT, AND FUTURE VERSIONS.
These Usage Clauses are subject to change at any time without warning.  By continuing to use the voicebank(s), artwork, character design, and/or any other aspect(s) of 'Johatsun Kikuro', you automatically consent to accept any updates to these Usage Clauses.  If a discrepancy between two different versions of these Usage Clauses should occur, then the most recent version of the Usage Clauses will take precedent.  If these Usage Clauses are translated into another language, then the translation shall be only for users' convenience and the original English Usage Clauses shall take precedent over any and all translations.
Notes
This page was created and is maintained by Kikuro's creator (Biohazard-P) and therefore the information on this page is verified to be correct. Please do not edit this page without permission. If you see something that needs editing/correcting, please let me know.
Ad blocker interference detected!
Wikia is a free-to-use site that makes money from advertising. We have a modified experience for viewers using ad blockers

Wikia is not accessible if you've made further modifications. Remove the custom ad blocker rule(s) and the page will load as expected.