Junbi Hosa

(Japanese:補佐準備- Hosa Junbi)
ALIAS: Junbi NAME INTERPRETATION: Junbi: Ready Hosa: Assistant
The voice for Junbi Hosa was made in 2011, but due to creator's lack of drawing skills, the design concept took awhile.
TYPE: UTAUloid / HELPERloidMODEL: NONE

GENDER
Male
VOICE RANGE

C2~C5 (Not really recommended to go below C3, if songs dip below, that's fine)

RELATED CHARACTERS

Kikugo

(Genderbend)

AGE
17
GENRE
Jpop
HOMEPAGE
WEIGHT
175 lbs
CHARACTER ITEM
Spoon
CREATOR
Muruko
HEIGHT
5'10 (178 cm)
VOICE SOURCE
Muruko
PICTURE LINK LIST
NONE
BIRTHDAY
October 2nd
LIKES

'Friendly people, 'people who treat others with respect, curry

MEDIA LIST
RELEASE DATE

March 13, 2012

DISLIKES
Obnoxious people that push him over the end, Scary looking things, harming others (physically and mentally)
SIGNATURE SONG

PERSONALITY: Junbi is a very kind and caring UTAU. He tends to care for others more than he does himself, which can cause trouble for others. He really likes people who treat others nicely, while he can somewhat stand people who can just be straight up obnoxious. He can hold in his temper quite well, but when he explodes, he explodes. He can cause quite a lot of harm to others, so he is quite a nonviolent person.

As a half human half dragon, he has two forms, a human for and a dragon anthro one. In his human form, he is able to sprout his wings, but he usually perfers not to, since they are very troublesome to handle. The marking on the left shoulder of his shirt is a very improtant symbol. When he was born, he was given his own personal mark to show that he was a very "special" human being. The marking is actually on his real body, but he put it also on his shirt to show that he is not afraid to show off who he is.
Supplemental Information
Hair color:Silver Headgear:None Eye color:Brown Earphones: Light grey colored headphones, look like a pentagon facing the ground, covering both ears.
Dress/Outfit: Soild blue shirt with a stripe down the middle of his shirt, along with a "tattoo" of his symbol on his left shoulder.
Nationality/Race: Human-dragon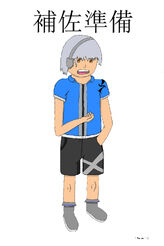 Voice Configuration
His CV Voicebank can be downloaded here: Mediafire
A VCV bank is planned and in the works.
Ad blocker interference detected!
Wikia is a free-to-use site that makes money from advertising. We have a modified experience for viewers using ad blockers

Wikia is not accessible if you've made further modifications. Remove the custom ad blocker rule(s) and the page will load as expected.