kedashi kedashi




けだしけだし (kedama is a nickname) kedashi is also a pun to ekadashi.

NAME INTERPRETATION:
"KEDASHI KEDASHI" means "probably, probably" because nobody knows what it really is. So they keep on guessing.
TYPE: [MUFFLED ALIEN]
MODEL: uewouewo (on it's right cheek and back neck.)
GENDER
Genderless (ASEXUAL ALIEN)
VOICE RANGE
D2~G6
RELATED
CHARACTERS:
AGE
33
GENRE
Ballad, creepy slow songs
HOMEPAGE
http://kedamaisamonster.webs.com/
WEIGHT
122 pounds
CHARACTER ITEM
PB and J Sandwich and Fanta Soda
CREATOR
uewouewo
HEIGHT
5 feet 11 inches
VOICE SOURCE
uewouewo
PICTURE LINK LIST
 [Concept Art CV] http://i64.tinypic.com/4s1tfn.png

[Concept Art VCV] http://i65.tinypic.com/34hcv0n.png

[Go-Blah] http://i66.tinypic.com/6508qa.png

BIRTHDAY
May 5th, 1983
LIKES
Cosplaying,

Fashion, Surfing the Web, Yaoi or Yuri, and the day Ekadashi.

MEDIA LIST
Youtube Channel: https://www.youtube.com/channel/UCeDEVPCjhbYNYM7EaBsWzeA

Facebook Page: https://www.facebook.com/uewouewo

Deviant Page: http://uewothefurball.deviantart.com/

Twitter: https://twitter.com/uewouewo

Nico ID: 62089621

Gmail: kedashikedashi@gmail.com

RELEASE DATE
October 6th, 2016
DISLIKES
Selfish people,

Mary Sues, Negativity, and People who have a HUGE ego.

SIGNATURE SONG
NONE
ADDITIONAL INFO: kedashi kedashi is a space traveler in which studies how the Earth works.

It can be described as a materialistic and intuitive hopeless romantic with humans.

Has an obsession with bathtubs.

It usually rants on how potatoes are bad and worries about EVERYTHING.

kedashi usually wear long sleeves to hide it's little stubs. That is also why it has long, claw-like fingers.

Can be considered to be a mix between a kuudere and a dandere.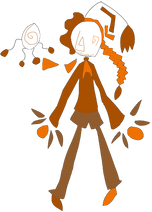 Eye Color: It's left eye is a dark brown, while the right is a light orange.
Hair Color: Left is a dark brown, while the right is a light orange. Also, the color on the end of it's braid is orange too.
Hair Style: On the left side, it's hair seems fuzzy and cloud-like with a really long braid. On the right side however, it's more on the flat and formal style.
Headgear: It has a rod in which it sticks automatically to its head. It also has an Esca on top of the rod. It can glow in the dark, and can act like a mic.
VOICEBANK/MMD DOWNLOADS ARE AT MY HOMEPAGE
Official Companion: A go-blah. [GOO-BLA]. (AN ALIEN JELLY-FISH.)
Favorite Phrases:
"I have no idea what I'm doing."
"Oh! you guys would make a great couple!"
"[Something mean]... Just kidding!"
"What do you mean?!? You guys are blushing."
CV CLOTHING: It wears a plain long-sleeved sweater [The sleeves are brown, but it's orange around it's torso area.] Also, the sweater also has a brown, triangle-shaped, keychain with a black, lightning pattern streaking all the way down to it's plain, brown pants. It also wears knee-high shoes, which are orange on the outside, and brown on the inside.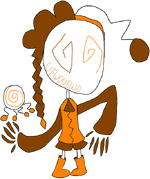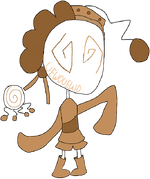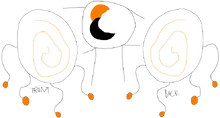 VCV CLOTHING:
It wears a plain long-sleeved sweater, (Just like the CV design), but a few changes. For example, it wears a brown kimono belt. It also has a hat with 6 buttons, (3 in front, 3 in back.) Instead of having braids, it uses chopsticks to lift it's hair. Other than those details, it basically the same thing as the CV, but with a different color scheme.
Nationality/Race: Born on the Gliese 581 system. (Nerd reference!)
NEW OTHER PAGE:
http://utau.wiki/utau:kedashi-kedashi
MY LAST PAGE:
http://utau.wiki/utau:furball-fashion-freak
DO NOT:
USE MY CHARACTER FOR SEXUAL/FETISH PURPOSES
EDIT MY UTAU'S OTO.INI AND DISTRIBUTE IT WITHOUT MY PERMISSION
RECOLOR MY UTAU AND POST IT AS YOUR OWN
(I WON'T BE HELD RESPONSIBLE IF ANY INCIDENTS OCCURS ABOUT/AROUND MY UTAU)
CREATE A GENDERBEND (MALE/FEMALE)
YOU CAN:
USE MY CHARACTER FOR FANART
CHANGE MY CHARACTER'S OUTFIT
POST ANY KIND OF SONGS ME SINGING