KONIRO


(Japanese: コニロ- 紺色 - KONIRO)

NAME INTERPRETATION:
紺色 (Koniro; Deep Blue)
TYPE: Utauloid
MODEL: PK02
GENDER
Female
VOICE RANGE
unknow
RELATED CHARACTERS

JOSHIRA (Fellow Utau)

AGE
15
GENRE
Ballads, Jpop, some Jrock, Jazz
HOMEPAGE
none
WEIGHT
45 kg
CHARACTER ITEM
Her hairband, which is like a dog leash.
CREATOR
Dei-Chan
HEIGHT

1.63m

VOICE SOURCE
Dei-Chan
PICTURE LINK LIST
Deviantart
BIRTHDAY

November 4, 1997

LIKES
Dogs, anime, sing, trees, jazz
MEDIA LIST
RELEASE DATE
November 4

, 2012

DISLIKES
Cats, chocolate
SIGNATURE SONG
none
PERSONALITY:' 'A girl with tomboyish touches and with a glance and dominant character. But she can be a sweet person with her friends.
Supplemental Information
Name: KONIRO
Hair: Brown, inspired in the akita inu and shiba inu's ears.
Eye color: Ligth blue
Nationality/Race: unknown

She does not have any kind of relationship with Joshira, in spite of being fellow utaus.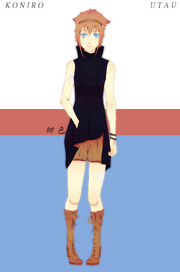 Usage Clause
#Non comercial VoiceBank

All can use it
You CAN'T redistribute the VoiceBank
Don't make other Utaus with this VoiceBank.
Please don't use this VB in religious or political themes
Voice Configuration
Can sing in romaji and hiragana. CV voicebank.
Download via mediafire: http://www.mediafire.com/?ntaiu8jzul1j272
Recomended use g+2Y0H0C99 and resampler.exe or fresamp.exe as resampler.
She has a soft voice, so she can't sing some genres.
Ad blocker interference detected!
Wikia is a free-to-use site that makes money from advertising. We have a modified experience for viewers using ad blockers

Wikia is not accessible if you've made further modifications. Remove the custom ad blocker rule(s) and the page will load as expected.