Ad blocker interference detected!
Wikia is a free-to-use site that makes money from advertising. We have a modified experience for viewers using ad blockers

Wikia is not accessible if you've made further modifications. Remove the custom ad blocker rule(s) and the page will load as expected.
開始音羽暖
'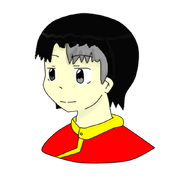 開始音羽暖
  Kaishi-ne Panan ไคชีเนะ ปานัน
or Kaishi'ne Hanedan ไคชิเนะ ฮะเนะดัน
漢字: 開始音羽暖 ・ 開始音羽煖
「カイシネハネダン」
注音:ㄎㄞ ㄕˇ ㄧㄣ ㄩˇ ㄋㄨㄢˇ
開始=Start 音=sound
(Note reading kaishi-ne isn't kaishi'ne 1) because isn't romaji 2) shi'ne is .... .
羽/羽=bird's feather 暖/煖=warm , so 羽暖="Warm feather"
English
Personal information:
Tabel ; Personal information's tabel.
GENDER

Male
VOICE RANGE
F2-C6
RELATED CHARACTERS
AGE

14

(official age)

GENRE
Normal Song
HOMEPAGE
PananP's Facebook page
WEIGHT
42 KM.
CHARACTER ITEM

Don't have.

LOL!

CREATOR

(パーナン

HEIGHT / MEASUREMENTS
166 CM.
VOICE SOURCE

'(Panan Kajithiya)

PICTURE LINK LIST
development stage
BIRTHDAY

18/01/xxxx

LIKES
日本カレー

初音ミク <-???

MEDIA LIST
development stage
RELEASE DATE
23/01/2015
DISLIKES
I don't know LOL!
SIGNATURE SONG
development stage
PERSONALITY:Most likely he will take the time to enjoy watching anime, listening to folk music and Miku's song.

Or play ProjectDiva . Or going to eat 日本カレー.
Appearance
Black hair,
red shirt ,wearing a black armband on the right arm,
and any pants that are black.
(Old Style had 'Square Hat white ,Red long sleeve t-shirt which arm right is short.and I don't use it then)
Download
All in one (Thai Japan China Indonesia)
For Version 1,2,3 Worring Befor to use chang
"Language for non-Unicode programs" to Thai language.
Source download:
1.BetaVoice
https://drive.google.com/file/d/0B0xCaBo_owSKVFVtS2tOOXJHZG8/view?usp=sharing
2.BetaVoice2 (Fix the big busy Voice and get more voice)
3.BetaVoice 3 (Fix the some busy Voice ,get more voice and edit OTO.ini to good sound.)
4..BetaVoice 4 (non Thai character (T_T))
Because this UTAU non the Unicode program
;Thai character can't read on P is computer .(T_T) (Is mine)
So I'm repair my voicebank to Latin character.
and you can reading voicebank user manual
in "readme.doc" at a voicebank folder.
5.Kaishi-ne Panan beta 5.
Can singing Chinese and Japanese music.
6.Kaishi-ne Panan beta 6. Voice repair PU PUU XA XU XUU XE XO XEE XAU XOO XEO XAI X XAA
SHAU AN ANG EON EONG ER etc
New OTO.ini Get 平仮名 to easy singing japanese.
7.Kaishi-ne Panan beta 7
「開始音羽暖 泰王語と漢語」
Add kha khi khu khuu khe kho khee khau khoo kheo khai
because か KA not like ขา ฃา คา ฅา KHA
and fix some Voice.
8.Kaishi-ne Panan beta 8
SOON
Close the project
Close the projectBecause I saw that bringing together multiple languages quite not good.So,Beta 8 is the final version would Kaishi-ne Panan it.
Thank you for all time ago.
For Thai
เร็วๆนี้ coming soon
For Japan
Beta Download here 仮Ver 【百度云】 (平仮名)
For China
即將推出 coming soon
ภาษาไทย
เกี่ยวกับ
เป็น UTAULOID
รุ่นแรกที่(เคย)สามารถพิมพ์ไทย
โดยที่มันสามารถออกเสียงภาษาไทยได้เกือบครบ
เช่น ร. ล. กา กั กรา สรี ฯลฯ และสามารถออกเสียงตัวสะกดเกือบครบเช่นกัน
ได้แยกออกจากันอย่างชัดเจน
ตอนนี้สามารถรองรับฮิรางานาแล้ว(ณ ตอนนี้)
ข้อมูลส่วนตัว:
(-_-)(อยู่ด้านบนไปแปลเองไม่อยากเขียนอีก)
แหล่งดาวน์โหลด:
All in one (ไทย ญี่ปุ่น จีน อีนโดนีเซีย)
รุ่นที่ 1,2,3 ย่ำ! ให้เปลี่ยนการตั้งค่าภาษาที่ไม่ใช่ Unicode เป็นภาษาไทยก่อน
ไม่งั้น โปรแกรมจะแสดงอักษรไทยเป็น คาตาคานา ตัวผอมหมด แล้วเสียงจะไม่ทำงาน
(แต่การเปลี่ยนทำให้โปรแกรมเปลี่ยนเป็นภาษาไทย โปรดตั้งค่าโปรแกรมเป็นภาษาอังกฤษก่อนครับ)
1.รุ่นทดลอง(แต่ใช้ได้ดีเหมือนกัน)
https://drive.google.com/file/d/0B0xCaBo_owSKVFVtS2tOOXJHZG8/view?usp=sharing
2.รุ่นทดลอง2 (แก้เสียงอันไม่พึงประสงค์และเพิ่มเสียง ควบกล้ำบางเสียง)
3.รุ่นทดลอง3 (แก้เสียงอันไม่พึงประสงค์บางส่วน มีการเพิ่มเสียง ควบกล้ำ พร ขร และการแก้ไฟล์ OTO.INI
ให้เสียงที่ดีกว่าเดิม)
4.รุ่นทดลอง4(ไม่มีตัวอักษรไทย (T_T)) เพราะ UTAU นี้ไม่ได้เป็นโปรแกรม Unicode
ซึ่งตัวอักษรไทยไม่สามารถอ่านบนคอมพิวเตอร์ของ P ได้ (T_T) (กระผมเป็นเอง อยากจะร้องให้)
ดังนั้นผมจึงซ่อมแซม voicebank ของผมไปใช้ตัวอักษรละติน
และคุณสามารถอ่านคู่มือการใช้ voicebank ใน "Readme.doc" ที่โฟลเดอร์ voicebank
5.Kaishi-ne Panan beta 5.
สามารถร้องเพลงเพลงจีนและญี่ปุ่นได้
6.Kaishi-ne Panan beta 6. แก้เสียง PU PUU XA XU XUU XE XO XEE XAU XOO XEO XAI X XAA
SHAU AN ANG EON EONG ER etc
OTO.ini ใหม่รับ 平仮名(ฮิรางานะ) การร้องเพลงญี่ปุ่นง่ายขึ้น
7.Kaishi-ne Panan beta 7
「開始音羽暖 泰王語と漢語」
เพิ่ม kha khi khu khuu khe kho khee khau khoo kheo khai
เพราะ か KA ไม่เหมือน ขา ฃา คา ฅา KHA
และแก้ไขบางเสียง
สิ้นสุดโครงการนี้

เพราะผมเห็นว่าการนำหลายภาษามาเข้าด้วยกันค่อนข้างไม่ค่อยดี
ดังนั้น ,Beta 7 จึงเป็นรุ่นสุดท้ายของ  Kaishi-ne Panan .
ขอขอบคุณสำหรับเวลาทั้งหมดที่ผ่านมา
สำหรับภาษาไทยล้วน
เร็วๆนี้ coming soon
สำหรับญี่ปุ่น
Beta Download here ชัวคร่าว 【百度云】 (平仮名)
สำหรับจีน
即將推出 coming soon
Other Site
UTAU Thailand group https://www.facebook.com/groups/623180631123553/
Some site have at Personal information
Gallery
JING to JIng