| | | |
| --- | --- | --- |
| | | Kanata Kaisou |

NAME INTERPRETATION: カナタ ( Kanata "The other side of", refering to her author's "other side", in this case, a opposite of what she herself is) カイソウ (Kaisou another translation for "reflection", hence her first name already means other side.)-

Her whole name would become "The other side of the (a) reflection"

TYPE: DESLOID

MODEL: YU-0 (Play on "Y U NO meme)

GENDER

Female

VOICE RANGE
unknown
RELATED CHARACTERS

Kage Mika

(nemisis)

(jealous of)

AGE
18
GENRE

Pop

Electronic

HOMEPAGE
Youtube
WEIGHT
130 lbs (59kg )
CHARACTER ITEM
Her kitten, Yuki
CREATOR
ShokoraOto
HEIGHT
5'6" feet
CUP SIZE
She only lets cute boys find out
VOICE SOURCE
ShokoraOto
BIRTHDAY
May 7th
LIKES

geeking over new JPop, spending money on cosplay items that she never uses, Hatsune Miku, onigiri, and shota boys

MEDIA LIST
Youtube
RELEASE DATE
March 25th, 2012
DISLIKES
Kage Mika, pickles, and anything not desu.
SIGNATURE SONGS

PERSONALITY: Loud, and obnoxious, Kanata is convinced any male who sees her falls in love with her, and if they decline, its just because they don't know it yet. Kanata loves to dream of being a magical girl VOCALOID, and is also convinced she is a VOCALOID, even though Mika constantly tells her otherwise. She hates being proven wrong or called annoying, and is very rude if you show that you don't like her. Even though she is 18, she is often shown being childish and whiny. She is also a self-proclaimed "OTAKU", and doesn't really know what the word means.
Supplemental Information
Hair color: Creamy-colored strawberry blonde, and her bangs are blue, red, purple and a little bit teal.
Eye color: Sky blue
Dress: See pictured
Nationality/Race: American (wants to be Asian)
Other: Her cat ears are real, and she is rumored to be a neko spirt back for revenge of some sort. Sometimes seen with a cat tail as well.
Voice Configuration
Kanata Kaisou's VB is in
Romaji
only, until she is wanted by more people. Her voice works best with freesamp or resampler.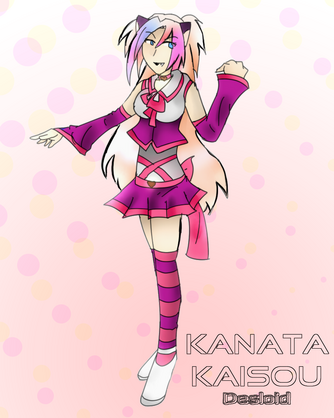 SHE IS A JOKE UTAU. DO NOT TAKE HER BIO OR APPEARANCE SERIOUSLY!
Download Kanata Kaisou ACT [1]
Supplemental Information and Trivia
•Her voice is only capable of japanese with a basic romaji CV voicebank.
• She secretly loves American Pop artists but doesn't want to admit or show it.
• All of Shokora's UTAU will have a stripe of some sort, Kanata's being her stockings.
• She was meant to sound like an imposter Teto-Miku lovechild and look like a wannabe magical girl.
Ad blocker interference detected!
Wikia is a free-to-use site that makes money from advertising. We have a modified experience for viewers using ad blockers

Wikia is not accessible if you've made further modifications. Remove the custom ad blocker rule(s) and the page will load as expected.