== Kaoru Okinawa== Okinawa Karou
Type: Mascot
Gender: Female
Voice Range- 60- 130 bpm
Related Characters: Ryoko Nagano (Friend)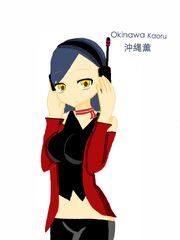 Age: 14
Genre: Pop
Homepage: CosplayCollect/ twitter
Weight: 100 lbs.
Character item: Chainsaw
Creator: Oburi Neiru
Height 5' 0
Voice source: Oburi Neiru
Picture link: on this wikia
birthday- July 4, 1998
likes: Anime, Acting, Playing Violin
media list: Coming to youtube
release date- July 4- 2012
dislikes: Demons, Being hurt, Being seen without makeup
Signature songs: Monochrome kiss, Dance of the dead

Trivia: Just like Ryuto the mascot of Gachapin, and Nekomura Iroha the mascot of Hello Kitty, Kaoru is the mascot of Kuroshitsuji, or Black Butler
Personality: Kaoru is seen to be quiet and slow talking, and loves the color red. She is a grim reaper and is considered silent but deadly. She is seen to sometimes seen to be jealous or even wants to be friends with Tei Sukone. She has no intrest into boys, just being herself.
Hair Color: Greyish Blue
HeadGear: headphones
eye color: Yellow- green
Headphones: Midnight blue, sometimes black and red, with yellow accents.
dress: black vest shirt, with black pants, and a red jacket lined with black, she wears it on her shoulders. She has a red neck tie with a white stripe down the middle. With red miniboots.
Nationality/Race: Shinigami, Grim reaper, death god
Favorite Phrase: Shi Ka! (death!)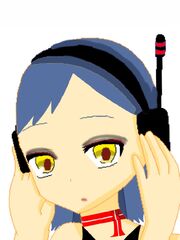 Ad blocker interference detected!
Wikia is a free-to-use site that makes money from advertising. We have a modified experience for viewers using ad blockers

Wikia is not accessible if you've made further modifications. Remove the custom ad blocker rule(s) and the page will load as expected.