Kuroi Karasu
(Japanese: 黒いカラス; Kuroi Karasu)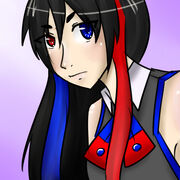 NAME INTERPRETATION
Kuroi; Black/Dark - Karasu; Raven/Crow
TYPE/MODEL
Stormloid; #1
INFORMATION
Gender
Female
Logical Voice Range
F#3~A4
Age
17
Genre
Pop/Rock
Weight
105 lbs (46.7 kg)
Height
5' 5" (167.64 cm)
Character Item
Cotton Candy
Birthday
October 25
Likes
Ravens, Singing, Archery, Pulling Pranks and other Trickery
Dislikes
Small children, people who are loud, one-uppers
Release Date
October 25, 2011
Related Characters

Kyoune Kuroi - Best Friend

Nedan Yuki - Best Friend (Crush)

Kuroi Kasu - Brother (Brother)

Fushigi Kage - Older-Brother Figure

Okashi Kara - Younger-Sister Figure

Akairo Bara - Friend

Home Page
Website
Creator
Stormi (stormilove)
Voice Source
Stormi
Picture Link List
DeviantART
Media List
Signature Song
n/a
Personality:
Karasu is very kind, and hardly ever gets mad or upset, but when she does it can lead to her holding a grudge for years. 
She can get along with basically anyone unless they're overly loud or immature.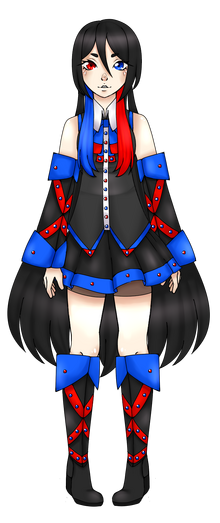 Supplemental Information
Hair Color: Raven black, reaching her mid-thigh, with two colored streaks that flow from above the ear. (Left; Blue Right; Red)
Eye Color: Left; Red Right; Blue
Headphones: Simple indigo colored head-set.
Dress/Outfit: School-type uniform with arm warmers and knee-tall boots.
Nationality/Race: Japanese/American (Demon)
Phrase: You can't listen to music with your ears; you must listen to it with your heart!
Voice Banks
Download here please! http://utaukarasu.weebly.com/
COPYRIGHT
Please don't claim Kuroi Karasu as your own UTAU/OC/ECT.
She belongs to Stormi! Please give credit when you use her!
(Or Stormi will find you, and give you a really long lecture. uwu)
Note from Stormi
- This is still a big WiP! I will be adding more voicebanks soon!
-If you have any questions, don't be afraid to contact me on Youtube or DeviantART!
- Thank you for viewing my page! (And downloading Karasu if you wanted!)
Ad blocker interference detected!
Wikia is a free-to-use site that makes money from advertising. We have a modified experience for viewers using ad blockers

Wikia is not accessible if you've made further modifications. Remove the custom ad blocker rule(s) and the page will load as expected.