This is the page regarding the UTAU fursona of the user Peaches Sparklepants (aka BettyTheDemon on wikia). Only they are allowed to edit this page, so please refrain from doing so. You can find Peaches here. If you have any questions about Okami or just wanna learn about them, just go there.
http://www.vocaloidotaku.net/index.php?/user/27876-peaches-sparklepants/

Personality
She is cheerful and silly, but sometimes isn't too great with conversation skills/social cues. She has a habit of blurting things out or accidentally saying the wrong the thing. She likes to 'think outside the box' coming up with solutions and ideas that aren't considered "normal" or "common".
Supplemental Information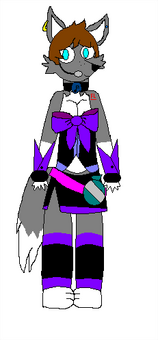 Headset:
A simple ear mic.
Main Clothing Colors: Black, purple and magenta
Eye Color: Cyan
Fur Color(s): Dark gray and white
Species: Anthropomorphic Wolf
Configuration: CV Romaji with Hiragana alias (as of her act 4 2.0 update)
Available on: PC
Voice Configuration
This section contains her vocal traits, and tips on using her voice.
If not used properly, she can sound very robotic and choppy with a metallic lisp. Sometimes her consonants can come in a bit too strong, especially the r's. These issues can be fixed by adjusting pitch envelopes and region properties. Edits to her oto are also permitted. If this is done, her vocals are clear and strong and somewhat realistic sounding.
A note from her creator:
I am American. My first language is English. Therefore, some syllables might have some pronunciation issues.
Voicebank Distribution
A list of her currently available voicebanks can be found here:
http://ilovedecepticons.deviantart.com/art/Kashu-Okami-Voicebanks-679524105?ga_submit_new=10%3A1494276000
*note: her Voicebanks are distributed via the site Mediafire, and they are all in ZIP format. And, as stated above, are encoded in Romaji CV. Her creator highly recommends her act 4 2.0 voicebank, as it has better quality than the others as well as being aliased in hiragana making her more suitable for Eastern users and a larger variety of USTs.
Before releasing any media featuring Okami, please read her terms of usage.
Voice Sample
This is a video of her cover of the song 'Rolling Girl'. The cover belongs to Peaches Sparklepants, and they ask you to please do not steal this cover and/or claim it as your own. Peaches does not claim rights to the song itself however as the original is by Wowaka. Below the video is a link to the original source. There you can find a link to the UST and such.
https://www.youtube.com/watch?v=VIA7wTJpnbU
Gallery
Ad blocker interference detected!
Wikia is a free-to-use site that makes money from advertising. We have a modified experience for viewers using ad blockers

Wikia is not accessible if you've made further modifications. Remove the custom ad blocker rule(s) and the page will load as expected.