Basic Characteristics: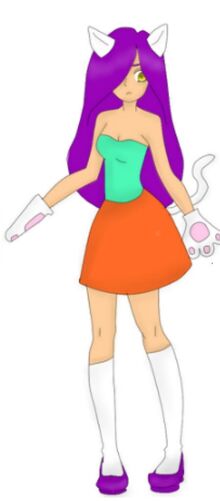 Voice range: D#3~A4
Gender: Female
Age: 21 years
Weight: 55kg
Height: 160 cm
Birthday: November 05
Genre: Adaptable
Creator: Lala-P
Voice souce: Ich Nyan
Favorite food: Gyoza
Desing:
Hair color: Purple
Hairstyle: Long hair.
Eye color: Yellow
Acessories: Nemomimis (cat years)
Outfit: A cat costume, green blouse and orange skirt, 3/4 socks and purple shoes.
Voicebank:
Just have a Japanese CV voicebank. Supports hiragana and romaji. Other projects was disbanded.
History:
Coming soon.
Future projects:
Disbanded.
Download:
Private UTAUloid.
Ad blocker interference detected!
Wikia is a free-to-use site that makes money from advertising. We have a modified experience for viewers using ad blockers

Wikia is not accessible if you've made further modifications. Remove the custom ad blocker rule(s) and the page will load as expected.