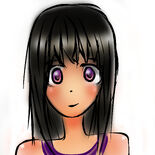 Kayumi Nemoyo
Kayumi Nemoyo is a 14 year old private UTAU created on Feb. 22, 2014. Her voicebank is recorded with a medium-high quality Microphone. 
Her voice and design is by Moyoyst //Moh-Yoh-East//.
Kayumi is best friends with Murphi.
She does not have any item, she can have any item people want her to have.
Links
Kayumi's Website: www.nemoyo.weebly.com 
Kayumi's Youtube: [http:// https://www.youtube.com/user/Fanloid917 Fanloid917]
Kayumi's Facebook: Fanloid917
Ad blocker interference detected!
Wikia is a free-to-use site that makes money from advertising. We have a modified experience for viewers using ad blockers

Wikia is not accessible if you've made further modifications. Remove the custom ad blocker rule(s) and the page will load as expected.