Kaze-sama

(Japanese: 風様)

NAME INTERPRETATION:
Like the wind or Wind god. His fullname is Kaze Izumi
TYPE: Pockyloid
MODEL: 01 (tattoo on his left shoulder)
GENDER
Male
VOICE RANGE
UNKNOWN
RELATED CHARACTERS

Kayo Moriko (love intrest)Pocky-chan (Sister)
Kimiko Itoh (Friend)

AGE
15
GENRE
Anything
HOMEPAGE
NONE
WEIGHT
127 lbs (58 kg)
CHARACTER ITEM
Chain with Spiked Ball
CREATOR
[[1]]
HEIGHT
6'0" (183 cm)
VOICE SOURCE
PockySensei
PICTURE LINK LIST
CONCEPT ART, PIAPRO, PIXIV, DEVIANT ART, GELBOORU, GOOGLE IMAGE, PHOTOBUCKET
BIRTHDAY
June 5, 1995
LIKES
Kayo Moriko, Kayi Moriko, girls, PockySensei, rice, icecream, candy, t.v, sleeping, rainy days, snowy days
MEDIA LIST
NICO NICO DOUGA, YOUTUBE
RELEASE DATE
October 1, 2010
DISLIKES
burnt food
SIGNATURE SONG
What's COLOR?
PERSONALITY: He is a kind person. He is a clumsy guy. He tries not to get in the way but somehow he always manages to mess things up. He is a forgivful person, but he gets mad easily. He is soft and a big marshmellow but he can also turn your life into a living nightmare.
Supplemental Information
Hair color: Brown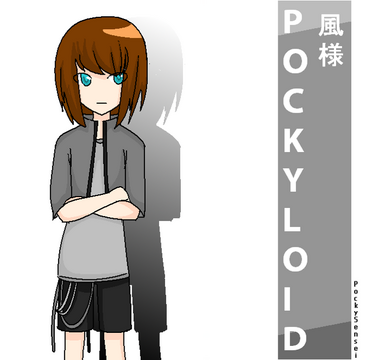 Headgear: Head phones
Eye color: Brown
Earphones:
Dress: Grey jacket, Dark grey long t-shirt, Grey capri pants, Dark Grey chain and belt, Silver wrist ban.
Nationality/Race: Japanese

Voice Configuration
PM Me @ YouTube - PockySensei, For Normal VB Download
Popular Appearances
Youtube

Some details are based on existing information and usage experience. The details seen here may be subject to change without prior notice.
Ad blocker interference detected!
Wikia is a free-to-use site that makes money from advertising. We have a modified experience for viewers using ad blockers

Wikia is not accessible if you've made further modifications. Remove the custom ad blocker rule(s) and the page will load as expected.