KAZENI YOJŌ


(Japanese: 風に幼女 - かぜによじょ - Kazeni Yojō)

NAME INTERPRETATION:
風に幼女 (Kazeni Yojō) - Means "little girl in the wind" in Japanese.

TYPE: YUUGANAloid

GENDER
Female
VOICE RANGE
F3~C6
RELATED CHARACTERS
AGE
7 years old
GENRE
All genres of songs
HOMEPAGE
WEIGHT
26kg
CHARACTER ITEM
Zobi the Bear (as teddy bear)
CREATOR
HEIGHT
1m32
VOICE SOURCE
PICTURE LINK LIST
BIRTHDAY
February 28 (release date)
LIKES
Her pink teddy bear, flowers, cats, making friends
MEDIA LIST
RELEASE DATE
February 28, 2016 (first voicebank)
DISLIKES
Bad people, fruit cakes, her family
PERSONNALITY
Funny, friendly, and sometimes a bit silly
Supplemental Information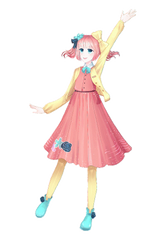 Hair Color: bubblegum pink
Headgear: ribbons
Eye Color: azure
Clothing: cute outfits. Always.
Nationality: Japanese
Voice Configuration
TECHNICAL INFORMATION
Kazeni Yojo VCV JP NATIVE
ARCHIVE FILENAME
Kazeni Yojo VCV JP NATIVE.zip
ARCHIVE FILESIZE
70 Mo
DATE RELEASED
August 16th, 2017
NO. OF VOICE PHONEMES
177
TOTAL UNCOMPRESSED SIZE
73 Mo
PHONEME ENCODING
Romaji
AVERAGE FREQUENCY
F3~C6
FRQ FILE PRESENCE
NO
LANGUAGES SUPPORTED
Japanese
OTO.INI PRESENCE
YES
TUNED OTO.INI
YES
LANGUAGE PARSED VIA OTO.INI
Japanese
VOICEBANK AUTHOR
OTO.INI TUNER
RECORDING SOFTWARE USED
OREMO
TECHNICAL INFORMATION
Kazeni Yojo CV JP NATIVE
ARCHIVE FILENAME
Kazeni Yojo CV JP NATIVE.zip
ARCHIVE FILESIZE
12 Mo
DATE RELEASED
August 16th, 2017
NO. OF VOICE PHONEMES
143
TOTAL UNCOMPRESSED SIZE
13 Mo
PHONEME ENCODING
Romaji
AVERAGE FREQUENCY
F3~C6
FRQ FILE PRESENCE
NO
LANGUAGES SUPPORTED
Japanese
OTO.INI PRESENCE
YES
TUNED OTO.INI
YES
LANGUAGE PARSED VIA OTO.INI
Japanese
VOICEBANK AUTHOR
OTO.INI TUNER
RECORDING SOFTWARE USED
OREMO
Terms of Use & Commercial Use
1. Terms of Use
Credit Hatsuko
Don't pretend that it's your UTAU
Don't sing sexual / religious character songs
Don't redistribute
Enjoy!
​2. Commercial Use
You must buy a license if you want to use Yojō in commercial use. For that, e-mail Hatsuko at natrev82@gmail.com
Thank you not to use the official artwork (one of REYAchan) in your products. However, you can include illustrations of Yojō other than the official one with permission of the illustrator.
Thank you properly credit the creator of Yojō on your products. (Hatsuko)
Gallery
Ad blocker interference detected!
Wikia is a free-to-use site that makes money from advertising. We have a modified experience for viewers using ad blockers

Wikia is not accessible if you've made further modifications. Remove the custom ad blocker rule(s) and the page will load as expected.