Ad blocker interference detected!
Wikia is a free-to-use site that makes money from advertising. We have a modified experience for viewers using ad blockers

Wikia is not accessible if you've made further modifications. Remove the custom ad blocker rule(s) and the page will load as expected.
 

KAZUKI KUROGANE


(Japanese: 黒が音カズキ - くろがね かずき - Kurogane Kazuki)

NAME INTERPRETATION:
黒が音 (Kurogane; Sound of dark)
カズキ (Kazuki/Kadzuki; Wind and Snow) - Kazuki is from Kaze and Yuki. So if we mixed them, then to be Kazuki.

TYPE: RECLOID
MODEL: yp-K - The meaning of yp-K, yp is "Yandere Psychotic" and K is his nickname, Kazu.
GENDER
Male
VOICE RANGE
C3-A3
RELATED CHARACTERS

Yari Kurae (Best friend/ Like)


Karirin Kurogane (Little Sister)

AGE

15 (official age)

GENRE
Rock-Pop, Any
HOMEPAGE
RECLOID Blog
WEIGHT
UNKNOWN
CHARACTER ITEM
Android, Galaxy Nexus Phone
CREATOR
mi-Yari/ Ya-rriii dA FBTW
HEIGHT / MEASUREMENTS
167 cm
VOICE SOURCE
K@-rin
PICTURE LINK LIST
UNKNOWN
BIRTHDAY
Desember 7, 1996
LIKES
Kazuki's Phone and Yari
MEDIA LIST
RELEASE DATE
UNKNOWN
DISLIKES
Being called "Psychotic"
SIGNATURE SONG
UNKNOWN

PERSONALITY: Kazuki is mysterious boy. Looks like very cheeful "just" with Yari and Karirin because he love them. He is Yandere type. He will get mad if another person so close with whom is him loved. In the out side Kazuki look like friendly but, inside he had a frightening heart in the deeper of the darkness...
Character Design
Hair color:
White and Black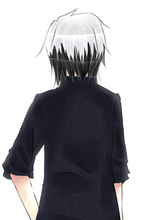 Eye color:
Light red
Nationality:
Indonesian-Japanese
-His concept not added yet-
Voice Configuration
Kazuki's reserve voice can be gotten by setting Yari's flag to Y0g+8F-40T40
Voice bank not uploaded yet.
Facts
He is Yandere Psychopath "Sadist"
Will get mad if another person so close with Karirin and Yari or person he is like.
Bad in high notes.
His voice can kill person. So, brace your self. (lol)
Usage Clause
Please DO NOT EDIT information that already given without permission her CREATOR.
Do not change any appearances that already be given out unless there are changes that have been made by the creator.
DO NOT pitch the voicebank.
Allowed to be use freely, but NOT for sale.
DO NOT use the name for a Role Play.
DO NOT COPY HER VOICEBANK
FREE FOR ANY RELATION