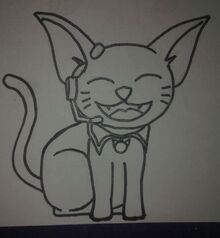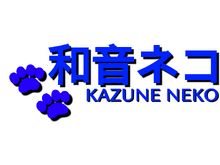 Kazune Neko is a 1 year aged normal cat,but have an "abnormal" hobby for a cat.As a cat,Neko loves chasing a rope,ball or yarn-roll like other cats.But uniquely,he shall leave it all when someone play a song near him.If he recognize the song,he will singing with his own language a.k.a cat's meow.That's why he always equipped with a special designed headset for cat.
Type : UTAUloid
Voice Range : c3-c6
Voice Provider : My cat
Language : Cat
Origin : Indonesia
Author : Fuda Uematsu
NB :Kazune Neko work on UTAU software but not compatible with human's .ust. So forgive me because there's no download link for Neko's VB (for now).
Trivia:
Kazune Neko's name inspired by Crypton's Vocaloid singer,that's it has means like them."Kazu" means "Value","Ne" means "voice",and "Neko" means "cat",and his full-name means "The Value of Cat's Voice".Awkward,right? :v But i like it because i love to listen "real" song of a cat.In other words,this name has philosphyc means "A hope to make a cat's voice more than a meow" :3
For more detail about KazuneNeko,go to his author's page (Indonesian)