Kenji Mamoru


(Japanese: 護るケンジ - まもるけんじ - Mamoru Kenji)

NAME INTERPRETATION:
護る (Mamoru; means Protect.)
ケンジ (Kenji; means Smart, Stronger and Vigorous; written in Katakana.)
TYPE: UTAU
MODEL: 25-012
GENDER
Male
VOICE RANGE
B2~F#4
RELATED CHARACTERS

Platina Karune: Kenji's Wife, singing partner and love.

Silver Karune: Kenji's Best Friend, brother in law and singing partner.

AGE
24
GENRE
UNKNOWN
HOMEPAGE
WEIGHT
79 kg
CHARACTER ITEM
Cherry
CREATOR

Kianna (Purpleangelkianna)

HEIGHT / MEASUREMENTS
185 cm
VOICE SOURCE
Kianna (Purpleangelkianna)
PICTURE LINK LIST
CONCEPT ARTDEVIANTART
BIRTHDAY
December 25th
LIKES

Cherries

MEDIA LIST
Not yet.
RELEASE DATE
October 15, 2012
DISLIKES
When  other men puts their eyes on Platina, mean peoples.
SIGNATURE SONG
PERSONALITY: Kenji is very random when he's around his Friends and family. He's used to be fun, romatic and a bit pervy when is with Platina, loves to tease her, gets easily jealous if a guy puts his eyes on his Wife, loves to eat hashbrowns and cherries, plus share a Pocky Chocolate Stick with Platina after dinner. Have a great heart and he won't hesistate about protect their beloved peoples if them are in a danger.
Character Design
Hair color:
 Black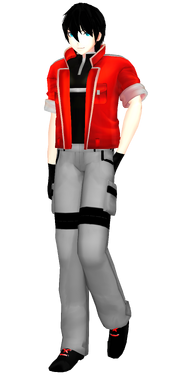 Eye color: Cyan.
Headphones: Headphones with mic Crimson/Black.
Dress: Black, Crimson & Gray Attire, Red/Crimson Jacket, Black & Gray Tanktop, Black Gloves, Gray & Black Pants and Black boots with red tapes, Kenji has a wedding ring on his left hand (He's married with Platina).
Nationality: American; Naturalized Mexican.
Orientation: Heterosexual. 
Catchphrase:  To Platina: "My Little Bunny~".
Facts
Loves to Tease his wife, Platina with his smirk.
Is very Jealous if someone puts their eyes on Platina.
Is older for 2 two years then his wife.
Loves bunnies and dogs.
Gets 100% pervy when he eats Cherries dipped in Chocolate.
His best friend in his brother in law, Silver Karune.
His favourite male Vocaloids are KAITO and Kamui Gakupo.
Voice Configuration
Kenji's Voicebank is Romaji encoded.
The Download of these voicebanks is private at the momment. Kenji won't be redistributed for now since his creator Kianna only gave it to MeltAisu, but as she is the new onwer of Kenji, she will take the choice of it.
MeltAisu is actually working to fix the Oto.ini of Kenji to make his Voicebank more accurate to sing, converting it in an "Extended" Update.
Usage Clause
Please DO NOT use Kenji for any commercial uses.
Please DO NOT claim them as your UTAU.
Give credit to MeltAisu (she had the copyright of Kenji since Kianna gave it to her, so his new owner is she) if you use him in a Fanfiction or Illustration.
Ask before for permission to his owner about use them for.
This Wiki Page will be edited only by Kenji's Owner, MeltAisu.
Character
Ad blocker interference detected!
Wikia is a free-to-use site that makes money from advertising. We have a modified experience for viewers using ad blockers

Wikia is not accessible if you've made further modifications. Remove the custom ad blocker rule(s) and the page will load as expected.