This page is still under construction!
NAME INTERPRETATION:
Kenji - (Healthy Second Son)

Tora - (Tiger) Ne - (Sound)

TYPE: UTAUloid
MODEL: =007=
GENDER
Male
VOICE RANGE
A3 (1st testing)
RELATED
CHARACTERS:
AGE
20
GENRE
Not defined
HOMEPAGE
Unknown
WEIGHT
145lbs
CHARACTER ITEM
Bell necklace
CREATOR
http://roxas-is-smexii.deviantart.com/
HEIGHT
5'5"
VOICE SOURCE
http://roxas-is-smexii.deviantart.com/
PICTURE LINK LIST
http://roxas-is-smexii.deviantart.com/gallery/33067823/UTAU-Kenji-Torane
BIRTHDAY
June 27th
LIKES
Milk, hanging out, bananas.
MEDIA LIST
Not available
RELEASE DATE
TBA
DISLIKES
Uptight people, catnip and his brother.
SIGNATURE SONG
Dan Dan Dance
ADDITIONAL INFO: Kenji is caring and outgoing. He generally gets along with people, always smiling and happy to make light of any situation possible. He's rather laid back and carefree, which allows him to get along with his best friend Hirokine Akane easier. He is very sociable and easy to talk to.

Tends to goof around alot and doesn't get along with his elder brother, Katsuro.
Supplemental Information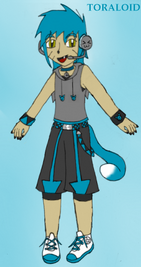 HAIR COLOUR: Bondai Blue
HEADGEAR: N/A
EYE COLOUR: Yellow.
EARPHONES: Grey and bondai blue. The sides have an >w< face on them.
OUTFIT: Grey sleeveless hoodie, (with cat ears on hood) bell necklace, black tanktop, black and blue armbands, black and blue checkered belt, black and blue belt hanging from his side, black shorts with blue arrows pointed downwards, black shorts under pervious shorts, white and blue sneakers.
PRIMARY COLOUR: Bondai Blue
COLOUR SCHEME: Bondai Blue, grey, black and white.
Trivia
Kenji works part time as a Milk Courier. (Milkman)
Kenji is Straight.
He is also British alongside The Akane siblings and others.
Kenji's Model Number can be found on his upper right arm.
Accoring to both Roxas and Fibre-Glass, Kenji lives across from the Akane siblings in the same apartment building. It explains why both Kenji and Hirokine get along so well.
Despite being laid back and care free, it seems that Masamine Akane (who is usually not tolerant of this attitude) has taken a liking to him enough to become friends with him.
Kenji doesn't have Neko ears. Instead they are sewn into his hat, leaving him with nothing but the Neko tail.
It is unknown why Kenji and his brother Katsuro don't get along. Nothing has been considered canon.
Ad blocker interference detected!
Wikia is a free-to-use site that makes money from advertising. We have a modified experience for viewers using ad blockers

Wikia is not accessible if you've made further modifications. Remove the custom ad blocker rule(s) and the page will load as expected.