KERVIN DERPFACE

(Japanese: None)

NAME INTERPRETATION:


Kervin- A spinoff of the popular American name, Kevin.

Derpface- Comprised of the words "derp" and "face".

TYPE: VeeKayloid

MODEL: 08

GENDER
Male (according to creator, Reyo thinks otherwise)
VOICE RANGE
Pending test
RELATED CHARACTERS

Reyo Karase- (strongly dislikes)

Mitsuki Akara- (has a crush on-I mean what)

AGE

15.5- human form

1000+- angel form

GENRE
Whatever vkunicorn wills
HOMEPAGE
N/A
WEIGHT
Unknown
CHARACTER ITEM
Bible and scepter
CREATOR
Creator's YouTube
HEIGHT / MEASUREMENTS
Unknown
VOICE SOURCE
See creator
PICTURE LINK LIST
N/A
BIRTHDAY
N/A
LIKES
God, mortals, Earth, interesting things, Mitsuki
MEDIA LIST
N/A
RELEASE DATE
N/A
DISLIKES
Stupid people, demons, Reyo
SIGNATURE SONGS
N/A
PERSONALITY: Kervin is a perverted angel who is interested in mortals and their activities. He is particularly fascinated by sexual things. Being an angel, he has a strong dislike for demons and tries to exorcise them on sight. He likes to fight for DEMACIA (I mean justice) and heaven. He has a severe dislike of Reyo Karase.
Supplemental Information
Hair: Comes below the chin, fluffy short bangs. Neon green, black stripes
Headgear: none
Outfit: Gray hoodie with white t-shirt. Black long pants. Neon green converse.
Species: Angel (specifically to scare the dark ones)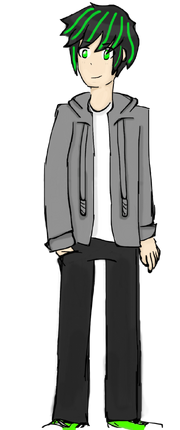 Kervin was based off of a pony OC that Kevin had already made previously. When Kervin was created, vkunicorn could not get Pit from Kid Icarus out of her head. Not only is Kervin an angel, but his manliness is also frequently butchered and is quite shota. His ACT1 voicebank also sounds much higher than his voicer.
MMD MODEL DL: Human form, or Angel form
Becoming an UTAU
He was kinda forced into this by monkey2601, the creator of Mitsuki. Along with monkey2601, vkunicorn literally helped Kevin design Kervin on a bus to Florida FCCLA State Competition 2014 in Orlando.
ACT1
vkunicorn and monkey2601 finally nagged Kevin enough to get a sharp, robotic voicebank. Good enough for now. Some sounds have faint ringing in the background, this is due to the fact that Kevin's pop filter had not arrived, so when he removed background noise, ringing was sometimes left behind.
VeeKayloid Kervin
vkunicorn has decided to move Kervin to the VeeKayloids. He will not be recieving a new bank.
Ad blocker interference detected!
Wikia is a free-to-use site that makes money from advertising. We have a modified experience for viewers using ad blockers

Wikia is not accessible if you've made further modifications. Remove the custom ad blocker rule(s) and the page will load as expected.