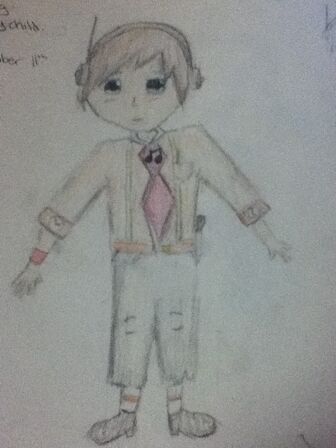 Kichiro, Ken
吉郎ケン
Type UTAULOID
Genre ?
Favorite color Chocolate brown
Name Interpretation
吉郎ケン
Kichiro, Ken
Kichiro meaning Lucky Child,
吉郎
And
Ken meaning Strong, Not only physically but mentally aswell
ケン
Voice Structure
Kichiro's 吉郎 voicebank is not complete.
It needs some work and tuninng.
Stay tuned in 2014 his voicebank will be published, and perfected.
Kichiro was created and programed for japanese songs. 
        >More Coming Soon<
Supplemental Information
Catchphrase Go Away! あっちへ行け
                             Atchi e ike
Favorite Phrase People that dont know me think I'm shy, people that know me wish I was.
              私は恥ずかしがり屋だと思う知らない人々が、私を知っている人がいたことを望む
Nationality/Race Japanese
Hair Color Coffee-bean brown                                                                                                                       Earphones Gray headphones with an antenna                                                                                               Hairdo Choppy brown hair, cheek length                                                                                                        Eye Color Sky-blue                                                                                                                                       Outfit A classic uniform. With a light brown suit and gray jeans. He has a bright red tie with a printed music note on the top. Yellow suspenders and his microphone clipped to his belt.       
GENDER
Male
LIKES

Cookies

Sleeping

AGE
13 1/2
DISLIKES

Horror movies

School

Whatever makes him think

WEIGHT
98 lbs

RELATED

CHARACTERS

Idol

HEIGHT/

MEASUREMENTS

5'1 ft
CREATOR
デビッドディルク
BIRTHDAY

October 11th,

2000

(following humain age)

HOMEPAGE
(None yet)
CHARACTER ITEM
A Cookie
DRAWINGS
デビッドディルク
VOICE RANGE
(Unknown)
NUMBER

11

DD

VOICE SOURCE
デビッドディルク and utau program
RELEASE DATE
Sometime in 2014
Personality Clam, Gentleman-like, Mature, Quiet, Likes being with friends