ELLIOT KIKAINE


(Japanese:

喜界

音エリオット -  きかいねえりおっと - Kikaine Elliot)

NAME INTERPRETATION:
喜界音 (Kikaine; Weird Sound) These kanjis haven't meaning but can be read as KIKAI, and so be tranduce as "weird".

エリオット (Elliot/Eliot) - From his creator's nickname. He goes by Leo.

Not related to Kikaine Riyo, Ryo or Rei

TYPE: UTAUloid
MODEL: NONE.

GENDER

Male

VOICE RANGE

F3~F5

RELATED CHARACTERS

KAGEASA (Big brother figure)

Amakusa Kuo (his bodyguard (and close friend))

Kagene Satsuki (one of his best friend)

Shinobuta Kira (childhood friend)

Otone Aria (little sister figure)

Finnian (Big brother figure)

Kamiaoi Eri (little sister figure and great friend)

AGE

15

GENRE

UNKNOWN

HOMEPAGE

Creator's Home page

WEIGHT

50kg

CHARACTER ITEM

None.

CREATOR

HEIGHT

165 cm

VOICE SOURCE

PICTURE LINK LIST

Refer to the Supplemental Informations for the updated designs

BIRTHDAY

December 25th, 1996

LIKES

Cooking, tidying.

MEDIA LIST

RELEASE DATE

December 17th, 2011

DISLIKES

Scarying things, being upset.

SIGNATURE SONG

VCV2012 - Aikotoba

High Set - Lost Time Memory

VCV2014 - Last Effect

PERSONALITY : Easygoing. He likes taking care of his family and his friends. Usually nice and kind, he's acting like a mom toward everyone he cares about. He dislikes to fight, unless it's forced, he avoids as much as possible. He is extra careful with girls, despite not having any other thoughts than helping.

His kindness is limitless, especially with both KAGEASA and Kuo.
Supplemental Information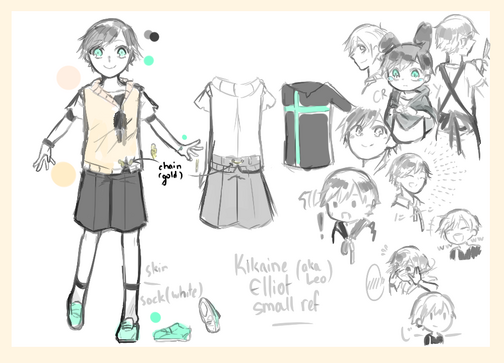 Hair color: black.
Eye color: green-blue color.

Nationality/Race:
Chinese-Thai-Japanese
Refer to concept art (2015). Creator dislikes to stick to a concept art. Type of clothes: casual but chic looking clothes.
Alternative design below, keeping the same color pattern.
Friendship with others UTAUloids
-KAGEASA : Big brother figure, close friend. Creators put them in "delicate situations", though.
-Amakusa Kuo : Boyfriend. They spend a lot of time together, including KAGEASA with them time to time, despite the (friendly?) hate between KAGEASA and Kuo. He used to side Kuo to annoy KAGEASA, but it became the other way round when they started dating (but Leo would make it up to Kuo right after). Leo likes to bug Kuo but can't resist Kuo's most sincere requests.
-Kikaine Ξlliot : "Eli", big brother, not blood related. Leo treats Eli as his little brother, often taking care of him despite being pranked by him. He secretly is the spoiled one in their brotherhood.
-Kikaine Asren : "Ren", little sister by blood. He cherishes her a lot, and is extra careful because she is malicious 60% of the time. She's the one who sticks to him when he's feeling down.
-Shinobuta Kira : "Shino", childhood friend.
-Karime Miyu: Considers her as his queen. Is able to excecute everything she asks for.
-Kamiaoi Eri : Little sister figure. He finds her adorable and would protect her, even though he's the strongest.
-Otone Aria : Little sister figure. They often get mistaken for a couple, which they furiously deny together. He worries a lot for her.
-Im Lei Zi : Friends?
Voice Configuration
ACT 1-RE-otoed Download: Very low quality bank. The bank is used by nostalgia. The oto.ini has been fixed, except for the diphthongs (ex: bya - bua). Oto-ed back in 2014.
APPEND DARK - ACT2: Taken down.
All the voicebanks below are made private, due to the lack of oto.ini and to bad recordings. You can ask for the banks @EASYSaeri on twitter (might decline your request).
VCV2012: His VCV bank is a lite-VCV. Includes a High Set (CV).
CV2013: tripitch, low quality, works with a lot of willpower and EQ.
VCV2014: High quality and soft, but has strong consonants. Works very well with moresampler.
Certified true and correct from Elliot's creator, EASYSaeri. The contents of this page is subject to change without prior notice.
Ad blocker interference detected!
Wikia is a free-to-use site that makes money from advertising. We have a modified experience for viewers using ad blockers

Wikia is not accessible if you've made further modifications. Remove the custom ad blocker rule(s) and the page will load as expected.