Ad blocker interference detected!
Wikia is a free-to-use site that makes money from advertising. We have a modified experience for viewers using ad blockers

Wikia is not accessible if you've made further modifications. Remove the custom ad blocker rule(s) and the page will load as expected.
Kimura Kanon (Japanese: 木村カノン - きむら かのん - Kimura Kanon)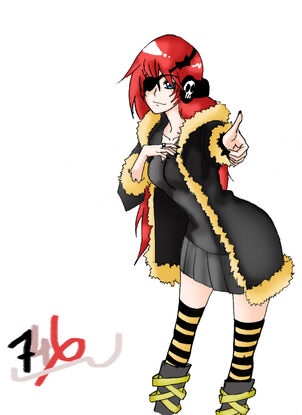 Kimura Kanon is the first Utauloid created by the youtube user Kanon746 with the help of the youtube user Banoetelchan
Information
Hair color: Red hair
Eye color: Blue
Headphones: black with skull design
Clothes: wears a black jacket similar to Izaya Orihara from Durarara series! a black shirt and a black miniskirt too, has a striped stockings and black sand, use a patch over her right eye, but she don't have any problem with she's Eye, she just like the patch
Nationality: Japanese
Favorite phrase: Music is life from the point where you look~!
Gender: Female
Related: Characters: Shirayuki Shiro (Pervert friend)
Age: 16
Genre: Rock, pop, Visual-Kei
Homepage: Kanon746, Voice Download
Weight: 45 kg
Height: 1.65 cm
Birthday: November, 27
Character Item: strawberries
Creator: Kanon746
Voice source: Kanon746
Likes: Strawberries, sweets, chocolate, sing, eat, playing videogames, anime, manga
Dislikes: the fake people, The bitter things
Signature Song: None
Personality
Kanon is a girl very quiet, she don't like talk much and prefers to be alone, is really shy and just talk with people who have a great confidence she loves the pizza and the chicken, loves the metal & rock music and the Visual-Kei Style