Kimura Kanon (Japanese: 木村カノン - きむら かのん - Kimura Kanon)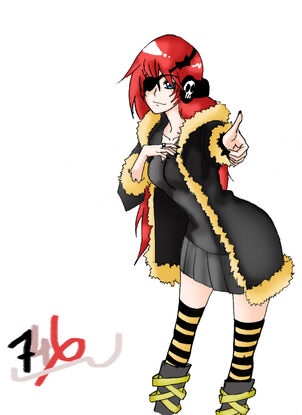 Kimura Kanon is the first Utauloid created by the youtube user Kanon746 with the help of the youtube user Banoetelchan
Information
Hair color: Red hair
Eye color: Blue
Headphones: black with skull design
Clothes: wears a black jacket similar to Izaya Orihara from Durarara series! a black shirt and a black miniskirt too, has a striped stockings and black sand, use a patch over her right eye, but she don't have any problem with she's Eye, she just like the patch
Nationality: Japanese
Favorite phrase: Music is life from the point where you look~!
Gender: Female
Related: Characters: Shirayuki Shiro (Pervert friend)
Age: 16
Genre: Rock, pop, Visual-Kei
Homepage: Kanon746, Voice Download
Weight: 45 kg
Height: 1.65 cm
Birthday: November, 27
Character Item: strawberries
Creator: Kanon746
Voice source: Kanon746
Likes: Strawberries, sweets, chocolate, sing, eat, playing videogames, anime, manga
Dislikes: the fake people, The bitter things
Signature Song: None
Personality
Kanon is a girl very quiet, she don't like talk much and prefers to be alone, is really shy and just talk with people who have a great confidence she loves the pizza and the chicken, loves the metal & rock music and the Visual-Kei Style
Ad blocker interference detected!
Wikia is a free-to-use site that makes money from advertising. We have a modified experience for viewers using ad blockers

Wikia is not accessible if you've made further modifications. Remove the custom ad blocker rule(s) and the page will load as expected.