Write the text of your article here!
GENDER
Female
Voice Range
D3-D5 @ 45-120 BPM
Releated Character(s)

Sukone Tei (cousin)

AGE
13
GENRE
ALL TYPE
Homepage
http://utau.wikia.com/wiki/Kira_onsei_%28sukone_tei%27s_second_generation%29
WEIGHT
32 kg

CHARACTHER

ITEM

AK4-7 and sweet potato

Creator

Nik Katarina (Vocoloid001)
Heigth/Measurements
158 cm
Voice source
Chisana Oto
Picture
NONE EXISTED
BIRTHDAY
JANUARY '13 1998
Likes

potatoes,

Miku Hatsune (Loves her idol kira is a bit lesbian but not all she is 100% girl.

MEDIA LIST
YOUTUBE
RELEASE DATE
July 13 2011
DISLIKES
Sukone Tei (Hates her for hating murder) , teachers (hates learning)
Signature song
FuKKireTTa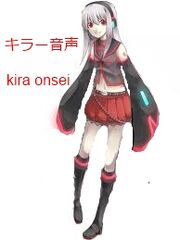 Loving and caring kira onsei unlike her cousin tei she has short hair..people always mistake her for sukone tei and would have a gruge on her poor poor kira...Her Type is an Audaloid (new version utau created by nik katarina)...Her voice program to sound bad and robotic...and all the song she sings shall not fit...edited by nik katarina the song will all sound bad to fit her songs... In the type her audaloid voice type is mixed by program utau and vocaloid...She likes to kill and her number 1 diva is miku hatsune...The voice provider chisana oto is a japanese school taken by test to make the worst but clear utau sound in the world she has maken kira tei audaloid 100 on her shoulder number code.
Kira onsei, Kira (killer), Onsei (sound/voice)
Released date 13 june 2011
made by nik katarina (discussed by nico nico a confirm utau) =_=
Ad blocker interference detected!
Wikia is a free-to-use site that makes money from advertising. We have a modified experience for viewers using ad blockers

Wikia is not accessible if you've made further modifications. Remove the custom ad blocker rule(s) and the page will load as expected.