KIRARI

(Japanese: キラリ - Kirari)

ALIAS: Kirari,Ki-chan

REAL NAME: Ayano Kiri / Kiri Ayano

Ayano (あやの

/

綾乃) - (

the color)

Kiri (

霧) -(

fog, mist

) 

NAME INTERPRETATION:  

キラリ (Kirari) - Shine,Twinkle,Glint

TYPE: UTAUloid

MODEL: +003+ (for some reason there's no meaning why did there's a + sign at the end)

GENDER
Female
VOICE RANGE
F#3`- F#5 
RELATED CHARACTERS

Sukone Tei (Idol)

Akiyama Ria (Enemy)

Kirato (Gender-bend)

AGE
UNKNOWN
GENRE
POP (or any)
HOMEPAGE
WEIGHT

132 lbs

(60 kg)

CHARACTER ITEM
Caramel Butter Toffee (CaBuTo)
CREATOR
Yuurei/Rei-kun
HEIGHT

5'2"

(160 cm)

VOICE SOURCE
Leila A.
PICTURE LINK LIST
NOT AVAILABLE YET
BIRTHDAY

September

     10

LIKES
Blood,Playing RPG,Cats,Sketching and Eating CaBuTo (Caramel Butter Toffee)
MEDIA LIST
Youtube
RELEASE DATE
April 10, 2013
DISLIKES
Her Robotic Voice,Bully and Sadist 
SIGNATURE SONG
NONE
PERSONALITY: Kirari is  a 1/4 Tsundere and Half Yandere. She always want to duet with Matsudappoiyo for some reason.Her appearance looks like a childish one. She thinks she's a forever alone. She had a bad history/memories about her life before. 
Supplemental Information 

Edit
Hair color: Reddish-Black Twintails 

Headgear: Twintail

Eye color: Aqua Blue or Blue-Green (left),Red (right)

Earphones: her twintail,which is her ear
Clothes: Monochrome Cotton Sky Jacket-Dress,Black Leggings and White Boots
Wavepad: her upper hair
Weak At: Her bad memories in the past

Favourite Country: Japan 
Favorite phrase: DIE! (Sukone Tei's Catchphrase)

Catchphrase:  I'm sorry for being a fool and I hope well see each other again.

Nationality/Race: Japanese-Filipino (Japinoy)
Voice configuration Edit
ACT 1 -  Download Here

ACT 2 - oto needed 

Mature Append - 
Her real name was Kiri Ayano
She will have her own manga story about her past memories (very,very soon)
Her twintails is her ear
She hates her 1st voicebank
She likes weird people
She hates loli 
She hates the word Onii-chan
OTHER RELATED CHARACTERS:
(FEEL FREE TO ADD AND BE KIRARI'S FRIEND OR ANY OTHER TYPES YOU WANT JUST TYPE IT HERE)
INSERT NAME HERE
INSERT NAME HERE
INSERT NAME HERE 
INSERT NAME HERE
INSERT NAME HERE
Kirari's Concept Art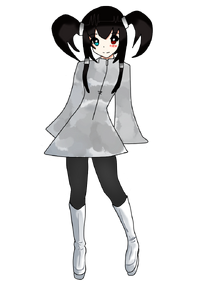 Ad blocker interference detected!
Wikia is a free-to-use site that makes money from advertising. We have a modified experience for viewers using ad blockers

Wikia is not accessible if you've made further modifications. Remove the custom ad blocker rule(s) and the page will load as expected.