LEON (KIRION)


(Japanese: リオン-リおん - Leon)

NAME INTERPRETATION:
リオン - (Leon - just a name. Nothing more.)

ALIAS: King- If saying his name in Japanese phonetics -Rion (-Ree-o-n-) it means King in irish. Could also call him Kirion - a play on Ki-Yellow and Rion - king So "Yellow King"

TYPE: DR-Loid
MODEL: SL01 - Initials of his name.
GENDER
Male
VOICE RANGE

A2- C4

RELATED CHARACTERS

Yami Sukoshi - Fellow DR-Loid

Ten Sukoshi - Fellow DR-Loid

AMi -

Fellow DR-Loid

AGE

22 

(11 in dog years - 77 in reality)

GENRE
Any
HOMEPAGE
HERE
WEIGHT

Unknown

CHARACTER ITEM

Rope collar

CREATOR
HEIGHT / MEASUREMENTS
5'11" ft (182 cm)
VOICE SOURCE
Deathruby
PICTURE LINK LIST
DEVIANT ART 
BIRTHDAY
25 December
LIKES
Relaxing, animals, going for runs, people, having fun, water
MEDIA LIST
RELEASE DATE
-
DISLIKES

'B'eing lonely, Eating, cats (sometimes)

SIGNATURE SONG
Unknown

PERSONALITY: Leon is a laid-back kind of guy. He enjoys company and hates being alone. He is a familiar (Magical pet) and is able to change forms from a human to a Golden Retriever. He's quite the airhead and is not fully knowledgeable of the human world since he's not actually apart of it.

He has a scar on his nose, going from the left to right, but sometimes he covers it by makeup. Underneath his rope collar are stitches that go all around his neck. He doesn't like to eat, and is said to be very light that a child can lift him without fuss, while using one hand on him.

Leon is a person that doesn't know how to say like or love. He has a hard time expressing his love because he doesn't know/have experience to say it. But when he does, you can tell he's totally serious about it. Nobody knows this though. Leon's way of speaking is like the normal japanese way: sans, chans, tans. But he never says names without them, only when he's serious and knows he has to and can. Leon uses it as a way of telling someone he likes/loves them fully and trusts them, and this is the only time.
Supplemental Information
Hair color: Yellow-blonde with brown
'Hairdo: Yellow-Blonde hair with lightish-brown patches on sides of hair representing dog ears
Eye color: hazel-brown
Earphones: Wears none
Dress: White short-sleeved shirt with sleeveless hoody and black pants and yellow/brown shoes. Wears white wristbands. Has a brown belt-tail. Has a rope collar around neck.
Nationality/Race: Unknown
Catchphrase: Unknown
Favorite phrase: Unknown
He's based on a stuffed dog that Master (DeathRuby) owns.
Note: You CAN draw him without the scar (as if he covered it with makeup) but it would be better if you drew it! Also, he RARELY takes off that rope collar off so ALWAYS draw it, unless permission is granted.
His brown on his hair are actually his real ears. His human ears are just for show and he can't hear through them. If his hair is cut and he happens to clip the brown, it will bleed. Literally. His belt-tail REPRESENTS his dog tail, but isn't a part of him like his ear-hair, so you can draw him without it, though most of the time he wears it.
Voice Configuration
Please note that all DRLoids are developed on Mac via Utau-Synth.
All voicebanks are CV at the moment. All are Hiragana oto-ed with romaji alias.
He is currently in Beta mode and has a 0.15 Beta voicebank currently released.
0.15 download: 0.15  Password: Dogs are cool!
Voice sample: Babylon
Concept Art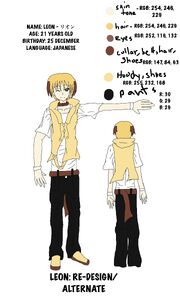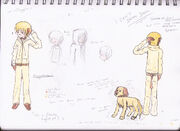 Usage Clause
Do not change any appearances that already be given out unless there is changes that have been made by the creator.
Commercial usage is permitted as long as Leon is clearly labeled and one has permission from Deathruby.
Do not violate any rights or copyright policies using this character.
Common UTAU ettiquete must be applied to Leon as well. Do not steal his design, roleplay without permission, etc.
This article is written and certified true and correct by the author of the character. The details seen here may be subject to change without prior notice.
Do not claim ownership of this character and her voicebank. 
Ad blocker interference detected!
Wikia is a free-to-use site that makes money from advertising. We have a modified experience for viewers using ad blockers

Wikia is not accessible if you've made further modifications. Remove the custom ad blocker rule(s) and the page will load as expected.