Kiwiiwii 06:47, February 22, 2012 (UTC)KikiKiwiiwii 06:47, February 22, 2012 (UTC)
Kiwiiwii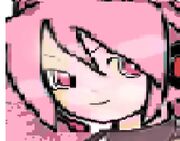 Kiwiiwii is a Utau,she was born the 2012-01-22.she look's like Miku but her hair has a teto drill on the bottom of the hair. i'm looking for some one to do a MMD model for her. if you want to do a Kiwiiwii MMD model you can mail me: Kiki_sekulici@hotmail.com.Kiwiiwii's item is a Kiwii you can hear it on the name her name was based on a kiwii XD.her hair is pink an some times purple,the eyes are pink too and purple some times.her chlotes looks like rin's ,miku,neru mix.she hate when some one is saying that it hate kiwii,if that happend she will got crazyyyyyyyyyyyyyyyyyyyy.
Ad blocker interference detected!
Wikia is a free-to-use site that makes money from advertising. We have a modified experience for viewers using ad blockers

Wikia is not accessible if you've made further modifications. Remove the custom ad blocker rule(s) and the page will load as expected.