Klaus Johnson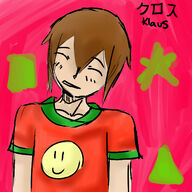 (Kanji: クラウス)
'Type: 'None



GENDER

Male

VOICE RANGE
D3-A4





RELATED CHARACTERS

Madeline Johnson (Sister)







AGE

15
GENRE
Rock, Electropop
HOMEPAGE

Prettyprincesstanya's

Youtube Channel:







WEIGHT

132 lbs
CHARACTER ITEM

'Christmas Trees or 'Soup

CREATOR
Prettyprincesstanya on Youtube







HEIGHT / MEASUREMENTS

5'9" ft
VOICE SOURCE
Prettyprincesstanya on Youtube (Tanya)
PICTURE LINK LIST
[N/A]




BIRTHDAY

November 24th, 1995
LIKES
Christmas trees, soup, bugs, and making custom shirts
MEDIA LIST







RELEASE DATE

November 24th, 2010
DISLIKES
Sweets, fast singing, texting
SIGNATURE SONG
Unknown (to be filled in)
PERSONALITY: Klaus is nice, but also immature. He loves to act older than he is, but fails most of the time. He will also annoy his little sister, Madeline, to no end. He loves soup and christmas trees. Even though he is immature, he is also serious only when it comes to matters of his family. He is also carefree and laidback when he is not annoying someone.
Supplemental Information
Hair Color: Light Brown, short.
Hairdo: Langs, cover some of his face.
Eye Color: Light blue.
Earphones: None
Clothes: Jeans, red shirt (any design) with green cuffs and color.
Nationality/Race: Half German.
Catchphrase: "If at first you don't succeed, give up and go annoy someone about it...."
Voice Configuration
Klaus is intended to sing japanese only. If you try to get him to sing Engrish then you can pull it off with decent results. His .wav files are encoded in romaji so Westerners and Easterners can both use his voicebank. His voice is kind of high so if you want him to sound lower, it is recommended to use the Y0B0g+5 flag for better low notes. Upgrades of his voice will be available soon, after the creator is done recording them.
Downloads
VOICEBANK:
Have fun with his voice!
Ad blocker interference detected!
Wikia is a free-to-use site that makes money from advertising. We have a modified experience for viewers using ad blockers

Wikia is not accessible if you've made further modifications. Remove the custom ad blocker rule(s) and the page will load as expected.