===
Klaus 'Macaw' Petrov.===
| | |
| --- | --- |
| Klaus | : Nicolás , el que lucha por el pueblo. |
| Petrov | : De piedra . |
Origen no definido .
Klaus es la "reencarnación" de un guacamayo perteneciente a un pirata del siglo XV , Julian Petrov.
Tiene 13 años y estatura promedio baja . Sus ojos son escarlata vivo y tez trigueña . Una pluma multicolor adorna su cabellera verde alzándose en la partidura de su pelo . Tiene un pañuelo muy colorido rodeando su cuello , al igual que un pequeño collar de oro sólido . La gema en su garganta le da la voz para cantar , voz que fue dada por su amo Julian una vez que murió . Tiene una polera manga ancha color capuccino intervenida de un tipo de "faja" color azul y violeta . Sus pantalones son negros con flechas de un vivo color verde limón que llegan hasta sus botas altas de cordón, color café.
Su voz puede sonar tanto como de chico , como de chica .
Tiene ACT2 , que suena mucho más fuerte que el original , también tiene Append Sweet / Serius / Solid y Power (no liberados). 
Su Voicebank es por autor Chileno por lo que no siempre se puede agarrar en las canciones bien el ritmo orignal con acento japonés.
Fue creado el 2010 y su re-diseño fue terminado a comienzos del 2012 .
Gustos :
Ama las Piñas y frutas tropicales . Adora el campo y la libertad . Le agrada la gente tranquila y serena , por lo que le gusta arrimarse a ese tipo de personas .
Disgustos :
Practicamente no odia muchas cosas . Le desesperan los autos , y le teme a los gatos . Se aterra con los sonidos fuertes y no le agrada mucho que lo molesten.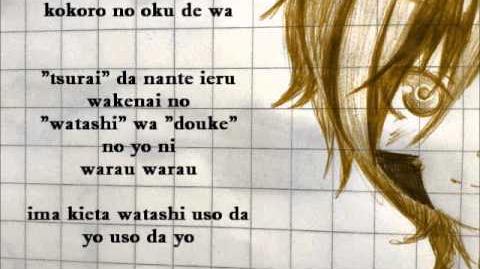 Su ACT 3 ya salió , por lo que sus fonemas son más entendibles , y su voz suena más fuerte . Al llegar a los graves Klaus cambia un poco su voz.
http://www.4shared.com/rar/FnDZV0YX/Klaus_ACT3.html?refurl=d1url
Ad blocker interference detected!
Wikia is a free-to-use site that makes money from advertising. We have a modified experience for viewers using ad blockers

Wikia is not accessible if you've made further modifications. Remove the custom ad blocker rule(s) and the page will load as expected.