KOBAYASHI IZUMI

(Japanese: 小林泉 - 泉小林 Izumi Kobayashi)

NAME INTERPRETATION: 

泉 (Izumi) - "Spring water" 小林(Kobayashi) - " Little Grove". Name literally means "little grove of spring water".

TYPE: UTAUloid.

MODEL: .19

GENDER
Female
VOICE RANGE
Unknown
RELATED CHARACTERS

Koboyaki Izumi (Male genderbend/brother)

Akira Kurone (best friend)




Ellis Kurone (best friend, probably more than that)

AGE
14
GENRE
Rock, Metal, Pop.
HOMEPAGE
unknown
WEIGHT
155 lbs
CHARACTER ITEM
Tomato
CREATOR
HEIGHT / MEASUREMENTS
5'2" ft (159.5 cm)
VOICE SOURCE
[(Artist/ creator)]
PICTURE LINK LIST

[[3]]

[[4]]

BIRTHDAY

July 22, 1999 (following human age) 

LIKES

Tomatoes, Ellis Kurone, Boomboxes, Violins, and videogames

MEDIA LIST
TUMBLR
RELEASE DATE
April 1, 2008
DISLIKES

Being called overweight, Hatsune Miku, and rotten tomatoes

SIGNATURE SONGS
Daiben , BITCRUSHE, I=Nightmare
PERSONALITY: Bland, and emotionless most of the time, unless around Ellis. Kobayashi also appears to dislike Hatsune Miku for unknown reasons, but most likely because Miku has so many dedicated fans. Koba barely ever smiles, but she tries to be as full of emotion as possible, especially when singing. She also tends to hide her plus sized body inside baggy clothes, which make her look a bit more chubby than she actually is.
Appearance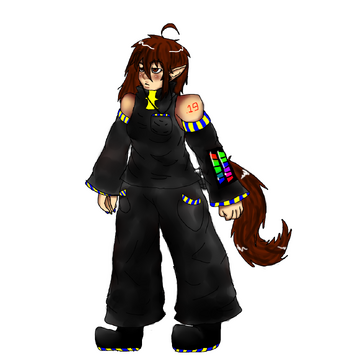 Wears black, baggy clothing, in order to hide her chub. Has a "monkey" like tail that starts off as metalic from her rear. Has Earbuds that plug into music player in a pocket on the front of her large collard shirt. Kobayashi has metal arm bands on her wrists and ankles, which appear to extend her arms and legs at will. She also has Blue and Yellow trim on the ends of her sleeves, pocket(s), and shoes. She also has elf ears, and an ahoge (foolish stick-up hair) that rests on the top of her head.
Other information
Under construction.
Ad blocker interference detected!
Wikia is a free-to-use site that makes money from advertising. We have a modified experience for viewers using ad blockers

Wikia is not accessible if you've made further modifications. Remove the custom ad blocker rule(s) and the page will load as expected.