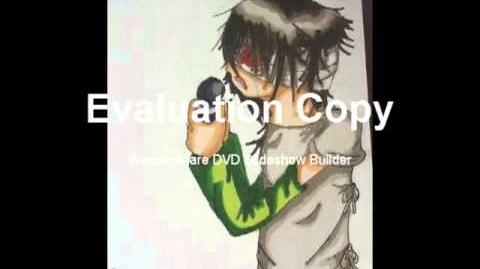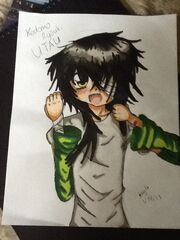 NAME: [surname] Kodomo (meaning child) [first name] Byouki (meaning sick or ill) Sick Child=Kodomo Byouki
TYPE: Utauloid
Section heading
KODOMO BYOUKI (or Kodomo Ryouki)
VOICE
Kodomo Byouki belongs to ACESBLITZ and only her. if you download his voicebank it is NOT OWNED BY YOU.
VB download link: http://www.4shared.com/zip/6TNNIp-h/Kodomo_Ryouki_VB.html
INFO
GENDER: male
VOICE RANGE: ???

RELATED: TRAP Oji (friend)

AGE: 7
GENRE: any (but sounds pretty good in songs like hurting for a very hurtful pain)

03:17

UTAU TRAP Oji and Kodomo Byouki COVER Hurting for a very Hurtful Pain-0

HOMEPAGE: none
WEIGHT:59 pounds

CHARACTER ITEM: none

CREATOR: AcesBlitz
HEIGHT: 4`5
VOICE SOURCE: AcesBlitz
PICTURE: AcesBlitz
DOB: 4/6/06
LIKES: when people visit him in the hospital, winning, singing, music, the color green,sleeves and dinosaurs
songs can be found on youtube
RELEASE DATE: 1/16/13
DISLIKES:reckless people, people who ignore him, wearing a hospital gown, surgery, and nasty medicine
FIRST SONG OR COVER: Circus Monster
Personality: Fun loving, sweet, loving, cheerful, and confident
VOICE TRAITS: very rough and robotic. (supposed to sound like he is ill)
LANGUAGE: Japanese
other info

| HAIR COLOR: black | EYE COLOR: Yellow |
| --- | --- |
| SKIN: white (copic numbers: E00, E21,E33) | OUTFIT: pale grey hospital gown, eye bandage, green sleeves |
| NATIONALITY/RACE: Japanese/human | pharse: "LET`S GO" OR "IKUZO" |
Ad blocker interference detected!
Wikia is a free-to-use site that makes money from advertising. We have a modified experience for viewers using ad blockers

Wikia is not accessible if you've made further modifications. Remove the custom ad blocker rule(s) and the page will load as expected.