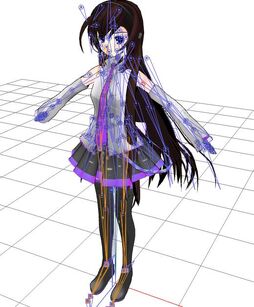 Kokoro Ai isn´t finished she needs a voice and the Model is processing. Her arm number is 00,
she is a Scarloid.
GENDER
Female
VOICE RANGE
Unknown
RELATED CHARACTERS

Akita Neru(friend)

BIRTHDAY
June 19, 1991
GENRE

Pop Music, Trance,

HOMPAGE
Scarloid Kokoro Ai
AGE
18 years
ITEM

Playstation 2

Controller

CREATER
WEIGHT
52 kg
ACTOR
Unknown
PICTURE LIST
HEIGHT
1.68m
LIKES

Videogames, technology

SIGNATURE SONG
At time none
RELEASE DATE

June 19,

2010

DISLIKES
Cold, lies
FAVOURITE
COLORS

Purple,

dark green
Personality
Ai is a very lovely person, she´s full of emotions and often very happy. She is exited of videogames and technology. Ai hates unfriendly people and liars but truly people are nice in her opinion, don´t care if the truth sometimes hurt. A long time ago she was upset by haters, they tryed to break her down with their lies. This was the reason why she turned into an Scarloid.
Supplemental Information
Hair: She has very long dark brown hair with a black Headband
Eye color: Dark blue
Earphones: Black with a purple Point
Race: Elf/human
Voice Configuration
The voice is in working.
Ad blocker interference detected!
Wikia is a free-to-use site that makes money from advertising. We have a modified experience for viewers using ad blockers

Wikia is not accessible if you've made further modifications. Remove the custom ad blocker rule(s) and the page will load as expected.