Ad blocker interference detected!
Wikia is a free-to-use site that makes money from advertising. We have a modified experience for viewers using ad blockers

Wikia is not accessible if you've made further modifications. Remove the custom ad blocker rule(s) and the page will load as expected.
Kokoro Kikoeru

(Japanese: こころ聞こえる / Kokoro Kikoeru)

NAME INTERPRETATION:

聞こえる = Kikoeru ( Hear, Sound)

こころ = Kokoro (Heart)

TYPE: UTAUloid 

MODEL: 00 (Her 00 is on her left leg, it's just above her boot. It's not displayed on her concept art.)

GENDER
Female
VOICE RANGE
F#3`C#5
RELATED CHARACTERS

Tonda Kokoro (Little Sister)

Kokoro Shou  (Little Brother)

Carl Lamp (living room lamp)

AGE
19
GENRE
Any
HOMEPAGE
WEIGHT
109 lbs (49.4kg)
CHARACTER ITEM
Baseball bat/apples
CREATOR
Ashu
HEIGHT / MEASUREMENTS

' 5'4' (162.6cm)

VOICE SOURCE
Ashu
PICTURE LINK LIST
None
BIRTHDAY
March 15th
LIKES
Salad, the color purple, family, quite rooms
MEDIA LIST
Youtube
RELEASE DATE
August 18th, 2013
DISLIKES

Meat, needless noise, peaches,extremely bright rooms

SIGNATURE SONGS
None
PERSONALITY: Kikoeru is stubborn and cold to most everyone. Often only showing kindness to close friends or family. She's often very blunt and has a hot-temper. She is very protective of her younger siblings.
Supplemental Information
Hair color: Brown hair put into braids, has two red highlights set upon her bangs
Headgear: None 
Eye color: Violet
Headphones: None
Dress: Kikoeru wears a purple and black T-shirt, with a purple and black tie. The bottom of the purple half of her shirt (and skirt) are ripped, showing black fabric underneath. She wears just above her knee length leggings, also purple and black. On her right arm has a blue arm band with a star design. Her belt is the same color as her arm band and has purple dots along her belt. He boots are just below her her knees, her boots also being purple and black. She also wears a black choker with a purple jewel, this choker was was given to her by her mother and she rarely ever takes it off.
Nationality/Race: Japanese
Favorite phrase: "Every mystery and surprise is waiting to be uncovered." .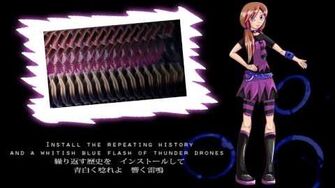 Voice Configuration
About Kikoeru Kokoro ACT3:
Mono-pitch CV containing VV samples. Encoded in Romaji with Hiragana aliases.
Optimal Settings: Resampler(s): Resampler4+ and Model4 Flags: Y0B0H0
Samples Using This Bank:
----
Kikoeru has an english voicebank planned for the near future, along with a VCV voicebank.