HITOTOSE KOORI

(Japanese: 春夏秋冬 氷)

NAME INTERPRETATION:

春夏秋冬 (Hitotose) - one year

氷 (Koori) - ice

TYPE: UTAUloid
GENDER
Female
VOICE RANGE
B3 - G5
RELATED CHARACTERS

N/A

AGE
15
GENRE
Any
HOMEPAGE
Weebly
WEIGHT
39.5kg
CHARACTER ITEM
Flavored crushed ice and baseball bat
CREATOR
Icesrjn
HEIGHT
147 cm
VOICE PROVIDER
Icesrjn
PICTURE LINK LIST
deviantART
BIRTHDAY
May 16
LIKES
any product that has ice, cold places
MEDIA LIST
RELEASE DATE
May 16, 2014
DISLIKES
stress, hot places
SIGNATURE SONG
Kokoro
PERSONALITY: 

Basically, Koori is a dandere. She's quiet, calm and composed. Though she's not really expressionless, in fact you can know what she feels through observing her facial expression and body language (like her eyebrows furrow when she dislikes something, or she'll slightly frown when she's sad). When she already considers you as a friend, like a typical dandere, she talks to you immediately. 
Supplemental Information
Hair color: Light blue
Eye color: Dark blue
Skin color: Fair but near to pale.
Inner shirt: Black turtle neck shirt.
Outer shirt: Gray off shoulder shirt with blue supporting string and has a light blue diamond shape on her left breast.
Skirt: Light gray skirt with a blue belt and at the end of her skirt also has blue lines.
Feet: On her left leg, she has a black thigh-high sock decorated with a blue line; on her right leg she simply has a plain black knee high sock. White flat boots.
Other: Has a blue fluffy necktie (whatever you call that). Two clips with a blue diamond shape as a decoration. Also has a white thick bracelette on both wrists. 
Nationality: Japanese
Voice Configuration
She only has a CV Voicebank in Romaji and currently not available yet. 
Facts
Icesrjn took a year and a half to publicized Koori (probably why Hitotose is her last name because it means one year)
Koori tends to cling.
She's actually a "sheltered princess".
She's immune to cold.
Concept Art / Reference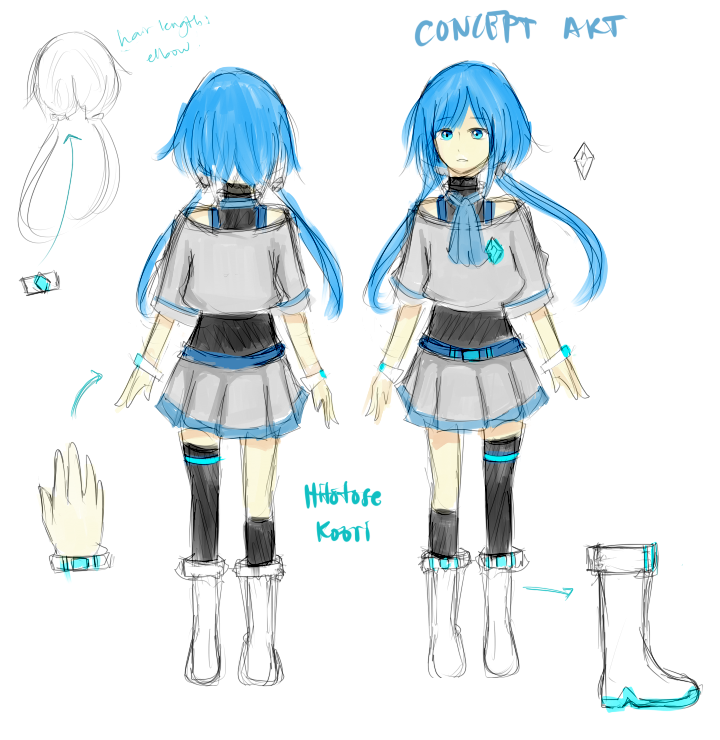 Ad blocker interference detected!
Wikia is a free-to-use site that makes money from advertising. We have a modified experience for viewers using ad blockers

Wikia is not accessible if you've made further modifications. Remove the custom ad blocker rule(s) and the page will load as expected.