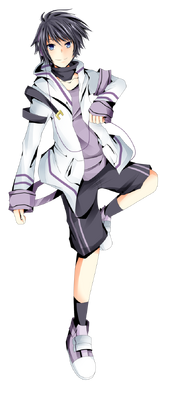 ALIAS: 香残コリ
NAME INTERPRETATION:
香残 (Kazan; volcano)
コリ (Kori, no meaning)
Personality: Has too much energy sometimes. Loves to be with others and hates being alone with nothing but silence. Makes friends easily and overall a caring energetic person.
Model Number: NONE
Type: NONE
Gender

Male

Voice Range

B2-C4

Related

Characters

Ritsu Namine (close friend)

Rook (best friend)

Age

17

Genre

Any

Homepage

N/A

Weight

135 lbs.

Character

Item

Icy Fire

Creator

Ethan

Lux

Height

5'8

Voice

Source

Picture List Link

N/A

Birthday

May 17

Likes

Yogurt, Ravioli

Media

List

N/A

Release Date

10/8/12

Dislikes

Avocado, Ginger

Signature

Song
Supplemental Information
Hair: Black
Eye Color: Bluish Gray
Shirt: Low-cut purple t-shirt
Jacket: White jacket with purple highlights
Voice Configuration
Kori is a CV with hiragana aliases and a VCV. A CV-VC English bank is planned as well.
He also has special sounds such as tya, she, si, ti, du, tu..etc. This will be useful in certain songs such as Pane Dhiria with these special sounds.
Usage Clause
Can be used without permission from the creator.
Slight pitch/gender factor change is not allowed.
Do not make a genderbend without the creator's permission.
Change of appearence is allowed, as long as he is still recognisable.
Voicebank
Kori Kazan VCV v2.0: http://www.mediafire.com/?tdinu31k7597zot
Kori Kazan VCV v1.0: http://www.mediafire.com/?bvnonr8amsvoj25
Kori Kazan CV ACT 1: http://www.mediafire.com/?39l927w3666nf9k
Ad blocker interference detected!
Wikia is a free-to-use site that makes money from advertising. We have a modified experience for viewers using ad blockers

Wikia is not accessible if you've made further modifications. Remove the custom ad blocker rule(s) and the page will load as expected.