Kori Twelves
Talk

2
4,259pages on
this wiki
 

KORI TWELVES


(Japanese: 十二林こり - Juunibayashi Kori)

NAME INTERPRETATION:
十二林 = Juunibayashi (Concerning the number 12)


こり= Kori (Maiden (Daughter, girl, damsel, wench...) in greek.)


TYPE: TIMEloid
MODEL: 012
GENDER
Female
RELATED CHARACTERS

Koru Twelves (Twin brother)
Eita Eleven (Friend)
Kurai Hikari (Friend)
Uta Utane (Idol)
Ela Teino (Friend) Claudia Alcalopez (Friend)
Nairu Kyoukine (Friend)
Hasu Jikkenne (Friend)


AGE

15

VOICE RANGE
F3~D#6 (C4)
HOMEPAGE
Kori Twelves Spanish Wiki
Blog

WEIGHT

56 kg

CHARACTER ITEM
A baseball bat and Mint Ice-cream
CREATOR
SpanishPandaHero (YouTube Channel) DestinyKayChan (DeviantArt)

HEIGHT / MEASUREMENTS
165 cm
BIRTHDAY
February 26
LIKES
Anime, manga, technology, music, bother his twin brother Koru Twelves, dogs and reading.
RELEASE DATE
February 26, 2012
DISLIKES
His brother not recognize her how his sister, the mess and the raining
SIGNATURE SONG
Lilium

PERSONALITY: Kori is a bit shy, but this only happend when she talks with a strange people. She is very cheerful and she is always getting into a mess. (She has always the luck that when she is doing anything is a bad moment for do it.) She loves his brother (But only like a brother.) She gets along well with all Timeloids, but especially with her friend Eita Eleven and his brother Koru Twelves (Although he says that he don't want to have anything to do with her.)
Supplemental Information
Edit
Hair color: White

Eye color: Red or Pink.

Nationality/Race: Spanish/Human.

Catchphrase: The white is the color of music.

Favorite phrase: Koru, Don't ignore me!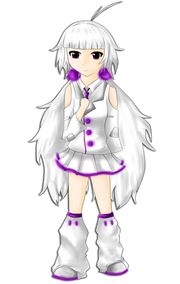 Voice Configuration
Edit
Kori is designed for Japanese and Spanish language. She is in an ACT4. She will have appends and maybe a VCV soon.
Links:
ACT4 Romaji Encode with Hiragana Alias (For occidental users) -> HERE
ACT4 Hiragana Encode with Romaji Alias (For Japanese users) -> HERE
Spanish voicebank (It has bad quality...She has a new Spanish VB soon.) -> HERE
If you want any of her lasts ACTs, you can download them in the Timeloid's blog (But you should to know that their sound bad...)
Fun facts
Edit
· She is more cheerful in the sunny days.
· When She is angry, She hits everything with her baseball bat.
· She hates Hatsune Miku.
· She idolizes Uta Utane.
· His voice has become more mature with each ACT, But It still sounding sweet.
· She was the first TIMELOID.
· The majority of her duets are with Kurai Hikari

Usage Clause
Edit
Kori Twelves is for free use. The English translation is provided by the author.
You can't gender bending the voice of this UTAU.
You can't use this Utau in a religious hymn.
You can make art of this Utau/use her voice if you give credits to "SpanishPandaHero" (YT) or "DestinyKayChan" (dA).