KUJIRA SHINIKAKE

(Japanese: クジラを死にかけKujira Shinikake)

NAME INTERPRETATION :                                                                                                             ALIAS : Mori-chan (もり ちゃん) : Named after the spanish way to say dying whale, ballena moribunda                                                                                                '                                         'クジラ死にかけ (Dying whale) He was named that because he sounds like a dying whale.

TYPE : 

UTAUloid

MODEL : W12 - The 'W12' is found on the tail of his mask.

GENDER
Male
VOICE RANGE
F3 - F5
RELATED CHARACTERS

Utano Akita(fellow whale friend(At least, Mori-chan thinks he is a whale))

AGE
27
GENRE
Everything
HOMEPAGE
DEVIANTART
WEIGHT
69kg
CHARACTER ITEM
The fish of justice
CREATOR

Sbrochu-san & YueHamachi

HEIGHT / MEASUREMENTS
6'2 feet
VOICE SOURCE
YueHamachi
PICTURE LINK LIST
DEVIANTART
BIRTHDAY
June 6th, 1987
LIKES
Justice and whales
MEDIA LIST
RELEASE DATE
None Yet
DISLIKES
'Bad' people, crimes
SIGNATURE SONG

None yet

PERSONALITY:  Mori-chan thinks he's a power ranger and that, with his 'whale' power, he will save the world from evil. He also considers himself a whale and will randomly act like one.
Character design
Headgear:
 Whale mask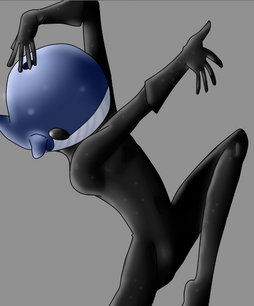 Eye color: Unknow
Dress: Full body black suit
Boots: Black
Other: ???
Nationality: Considers himself a whale but his 'real' nationality is unknown.
Voice Configuration
Mori-chan's voice is by default a lowish male voice and best around C3. The voicebank will probably be encoded in Hiragana and Romaji.
He currently has no completed voicebank. The ACT 1 will come soon.
ACT 1                                                                                                                                                   Download : [No link yet]
Facts
He likes more to be called Mori-chan than his real name.
Mori-chan talk at the third person, saying 'Mori-chan' instead of I or me.
He considers his friends fellow whales.
He's vegetarian : he doesnt want to eat animals because he considers them his friends.
His birthday is actually a small pun : if you say june six quickly, it will sound slightly like justice.
He has a fear of cats.
Usage Clause
General
Do not claim this UTAU as your own.
Do not impersonate the creators.
Voicebank & Songs
You do not need permission to use the voicebank.
Please put the name of the UTAU if he's used in any of your works. (Either Mori-chan or Kujira Shinikake)
Do not use our UTAU for commercial purposes unless you have obtained permission from us.
Do not redistribute the voicebank.
Do not redistribute a modified version of any of this UTAU's voicebank.
Do not use the voicebank as a Pitchloid.
YOU MAY modify the oto.ini, but do not publicly distribute a modified oto.ini of the voicebank without mour permission.
Roleplay
Do not do any kind of roleplay without our permission.

This article has been written by the creators of Kujira Shinikake. Please do not change any info.
Ad blocker interference detected!
Wikia is a free-to-use site that makes money from advertising. We have a modified experience for viewers using ad blockers

Wikia is not accessible if you've made further modifications. Remove the custom ad blocker rule(s) and the page will load as expected.