KUO AMAKUSA


(Japanese: 天草クオ - あまくさくお - Amakusa Kuo)

NAME INTERPRETATION:
天草 (Amakusa; Responsible, systematic, and practical nature) - Being the mature individual he is, he rarely overreacts when the situation is unfavorable.
クオ (Kuo; Vast) - He has a vast array of knowledge stored in his head.

TYPE: HOODIEloids
MODEL: H-02 - 2 implies that he's the second model for HOODIEloids. Imprinted on headphone (hard to be seen).
GENDER
Male
VOICE RANGE
A2 - F#5
RELATED CHARACTERS

Hisoka Kurosawa (Close Friend)

Kikaine Eliot (Significant Other (Dating))

KAGEASA (Rival/Close Friend)

AGE
19
GENRE
R&B, Rock, Ballad
HOMEPAGE

N/A

WEIGHT
69 kg
CHARACTER ITEM
Neon green spray paint
CREATOR
midori* (DA) (YT - Other YT) (TWT)
HEIGHT / MEASUREMENTS
177 cm
VOICE SOURCE
midori*
PICTURE LINK LIST
CONCEPT ART
BIRTHDAY
January 25
LIKES
Black and neon colors, learning new things, gore
MEDIA LIST
YouTube DropBox
RELEASE DATE
June 18, 2012
DISLIKES
Getting embarrassed, losing to anyone
SIGNATURE SONG
PERSONALITY: Kuo is considered a quiet individual; he was never one for socializing. He gets overly serious and competitive in many occasions. He has quite a temper and he contradicts his actions with his words often. He's also infamous for giving the cold shoulder, even to his closest friends. He'll react brashly whenever he's embarrassed, yet he's secretly sweet and caring to others. He likes to think things through logic like the smart-ass he is, albeit he's slow at times.
Supplemental Information
Hair color: Dark Gray.
Eye color: Neon Green.
Nationality: Japanese-Chinese.
Voice Configuration
ACTs
Kuo's voice is by default, encoded in Hiragana and Romaji. If you want to use Kuo's voicebank, please credit to me.
ACT1: here. His ACT1 includes: oto.ini, encoded in Romaji and Hiragana. Please add flag BRE50g+5Y30H80.
Currently working on his ACT2 and planning on a VCV voicebank.
Append
Unfortunately, I am still working on his design and voice for Append. I intend to make his Appends later on after I finished his ACT2 and VCV.
Other Languages Voicebanks
I will make a Chinese Voicebank for him in the nearest future.
Official Character Design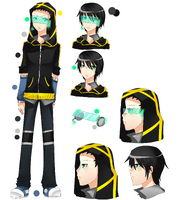 In this design, he wears a black hoodie with yellow stripes, a gray sleeveless shirt inside his hoodie, dark blue pants with accessories, blue sneakers, and arms warmers with metal around the edges. His headphones are gray and has a some sort of neon green goggle made of glass. It makes him look futuristic.
Facts
He rarely takes his headphones off.
He actually had a crush on Mami once, but moved along.
He fights a lot with KAGEASA. KAGEASA likes to mess with Kuo, which is the reason they fight a lot. They still bicker up till now, but Kuo knows deep down he takes KAGEASA as a very close friend of his.
He is very close with Elliot. He sees Elliot as a very precious and vulnerable kid, so he steps in as a bodyguard (or just an over-protective friend) from time-to-time. And now, they're officially dating.
Other than Japanese, he can speak English and Chinese well.
He is half-Japanese and half-Chinese. Amakusa is Japanese and Kuo is Chinese.
Fellow HOODIEloids
Usagi
Aoi Tamashi
Revo Otome
Natsuno Kyou
Yuki Samui
Kirei Oheina
Megao

Certified true and correct from Kuo's creator, midori* (Midori-kun or MidoriHihara07). Please do not change anything here without my permission.
Ad blocker interference detected!
Wikia is a free-to-use site that makes money from advertising. We have a modified experience for viewers using ad blockers

Wikia is not accessible if you've made further modifications. Remove the custom ad blocker rule(s) and the page will load as expected.