KURAI AND HIKARI

(Japanese:暗い- 光 )
NAME INTERPRETATION:

暗い(Kurai-means dark she is the one that is brown)

光(Hikari-means light she is the one that is white)

||TYPE: UTAU

MODEL: NONE |
-|GENDER | Female and Female
AGE |Both 14
|WEIGHT |UNKNOWN
CHARACTER ITEM |hearts
CREATOR |Manami Riko
HEIGHT |UNKNOWN
VOICE SOURCE |NONE |
"|BIRTHDAY |September 22
"|LIKES | ice cream,bunnies,
hair styles
"|RELEASE DATE |December 15, 2012
DISLIKES | hatsune miku, 
blue and pink,
yin and yang
"|SIGNATURE SONG |NONE |
PERSONALITY: both are like yin and yang but they are more one has powers.Kurai can fly and can hear 10 miles away.Hikari has none powers but she seeks to find out 
how her sister Kurai got her powers.!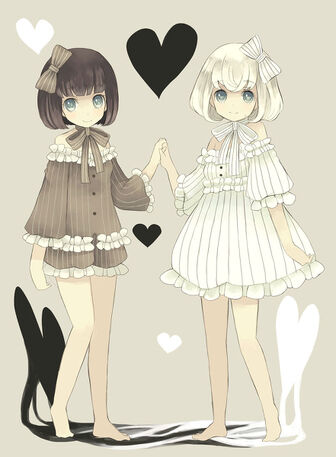 Ad blocker interference detected!
Wikia is a free-to-use site that makes money from advertising. We have a modified experience for viewers using ad blockers

Wikia is not accessible if you've made further modifications. Remove the custom ad blocker rule(s) and the page will load as expected.