Kuripoid
Talk

0
4,613pages on
this wiki
ALIASES: Kurai

TYPE: Furloid/Animaloid
MODEL:

K-01

GENDER
Male

VOICE RANGE

B2 ~ C5

RELATED CHARACTERS

Meipoid (Sister)

Tokuma Kyoushiro  (Close Friend)




Jinx Nyota (Close Friend)




Hana Chikako (Close Friend)




Okama Tsuyoine  (Close Friend)

Miley Crus ( owner)

AGE
2
GENRE
Undefined
HOMEPAGE
N/A
WEIGHT
423847238947 tons

CHARACTER ITEM

Bitches

CREATOR

HEIGHT

5'10" (170cm)

VOICE SOURCE

xKuraiOkamix

PICTURE LINK LIST

CONCEPT ART (DA)/(FA), DEVIANTART

BIRTHDAY
07/28/1997
LIKES

Corndogs, Dogs, Sweets, Dr.Pepper, Rain, Music, Drawing, Hearts, the Color Pink,

Female dogs.

MEDIA LIST
YOUTUBE

RELEASE DATE

August 16, 2011
DISLIKES

American Rap Music, Large Bodies of Water (i.e. Lakes, Oceans), Spiders,

hfbhsahsbvdhsavdshsadhsdhdsgdghdhgdgdggdgddsghdgds

SIGNATURE SONG

N/A

PERSONALITY: Kuripoid is a shy Utauloid that usually keeps to himself. He's more open to being himself when around friends. Although he may not be very outgoing, he still likes to make new friends. He's just really bad at it. His terrible self-esteem can be a bother to others, but his friends seem to put up with it for some reason.
Supplemental Information
Edit
Hair color: Black
Eye color: Fuschia
Special Gear: N/A
Nationality/Race: Anthropomorphic Wolf

Kuripoid is the Utauloid representation of Kurai(xKuraiOkamix). They are one in the same, from height to weight, likes to dislikes, and personality.
Kuripoid was released with a rushed '.oto'. He prefers to go by Kurai. He loves to sing and draw. He loves Ice Cream, Corndogs, Hearts, and Various Candies.
This article is written and certified true and correct by the author of the character. The details seen here may be subject to change without prior notice.
MikuMikuDance
Edit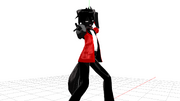 Kuripoid has an (act1) MMD model created by KitsuneHoshiYoru(YT). It doesn't match his official act1 design exactly, but that can only be blamed on the fact that the author never released a concept art for Kuripoid act1. The model has been dubbed 'Casual Kuripoid'.
Kuripoid act1
Edit
On August 16, 2011 Kuripoid act1 was released. Act1 is a lazily edited bank. It sounds terrible with the default resampler and decent with Fresamp. His .oto needs ALOT of work, but the bank is downloadable here if you actually voicebank.
Kuripoid act2
Edit
Production of Kuripoid act2 began on January 4, 2012. It is a CV/Diphonic voicebank with romajii encoding and hiragana aliases. A demo of the voicebank can be heard here. The bank is clearer and smoother than act1. The bank is currently available on the creator's 4Shared page .
Kuripoid Append
Edit
As of 08/27/2011 Kuripoid has had an append in the works. He is planned to have 6 Append Voicebanks, however two of the banks may be dropped for possible lack of usage. All will be released together in one .ZIP file.
His planned appends are as follows:
Kuripoid GHOST - An average soft voicebank. This voicebank is currently under reconstruction.
Kuripoid PULSE - A voicebank intended to be a strong voicebank. No progress has currently been made on it.
Kuripoid MORNING - A "higher pitched" voicebank. One of the possible voicebanks to be scrapped.
Kuripoid MIDNIGHT - A more mature and dark voicebank. One of the possible voicebanks to be scrapped.
Kuripoid ADULT - A voicebank intented to sound more mature.
Kuripoid CHILD - A voicebank intended to sound younger than normal.
Voice Configuration
Edit
TECHNICAL INFORMATION

Kuripoid act1
ARCHIVE FILENAME

Kuripoid act1.zip

ARCHIVE FILESIZE
5.55 MB
DATE RELEASED
08/16/11
NO. OF VOICE PHONEMES
117
TOTAL UNCOMPRESSED SIZE
9.03 MB
PHONEME ENCODING
Romaji
AVERAGE FREQUENCY
B2
FRQ FILE PRESENCE
Yes
LANGAUGES SUPPORTED
Japanese
UNOFFICIAL SUPPORTED LANGUAGES
Engrish
OTO.INI PRESENCE
Yes
TUNED OTO.INI
Yes
LANGUAGE PARSED VIA OTO.INI
Japanese
VOICEBANK VOICER

xKuraiOkamix

TECHNICAL DIRECTOR

xKuraiOkamix

RECORDING SOFTWARE USED
oremo
VOICEBANK EXTENSIONS PRESENT
No
Download Status/Link
Kuripoid act1.zip