Kuritan

(Japanese: 栗たん - くりたん)

NAME INTERPRETATION:

くり - Kuri (hiragana for "chestnut"). It can also be written as a kanji, 栗.

たん - A suffix, which adds some "cuteness" to the name.

TYPE: TEAMLOID

MODEL: K14

GENDER

Female

VOICE RANGE

Unknown

RELATED CHARACTERS

Desune Moralix (friend and TEAMLOID voicebank)





Shura Akira (older sister and TEAMLOID voicebank)




Hikaru Mikifly (friend and TEAMLOID voicebank)





Namine Ritsu (idol and inspiration)

AGE

6

GENRE

Any

HOMEPAGE

COMING SOON
WEIGHT
30kg

CHARACTER ITEM

Pudding

CREATOR

HEIGHT

154cm

VOICE SOURCE

Aiko Shimizu

(click here to hear a sample)

PICTURE LINK LIST

NONE

BIRTHDAY

2th August

LIKES

Shotas, traps, lolitas, sleeping, cats, pudding.

MEDIA LIST

RELEASE DATE

02-08-2013

DISLIKES

Dogs, being alone, children, humans.

SIGNATURE SONG

"Otsukimi Recital" (originally by IA)

Click here to hear.

PERSONALITY:

Kuritan is a fox girl. She is totally crazy, energetic, clumsy and loves dressing up her older sister, Akira, with every different types of dresses. Sometimes she talks to much. She can act like a tsundere sometimes, and falls asleep easily.
Character Design
Kuritan has red eyes, big cat ears, various ear piercings, and a white bandage. She wears a small dress: the upper part is red and the rest is black. She also wears long stripped stockings with two different colours, red and black. Her hair is long and pink with yellow tips and a huge ahoge.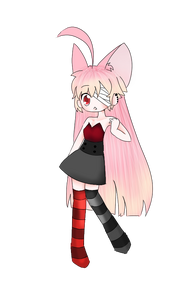 You can see her design in your right.
(Art by Aiko Shimizu)
Voicebank Downloads
Normal Voicebanks:
Click here to download Kuritan ACT1. [Romaji, Hiragana aliases, OTOed. "Gi" and "Bu" phonemes are missing.]
Ad blocker interference detected!
Wikia is a free-to-use site that makes money from advertising. We have a modified experience for viewers using ad blockers

Wikia is not accessible if you've made further modifications. Remove the custom ad blocker rule(s) and the page will load as expected.