KURUMI SUBARASHIINE


(Japanese: 素晴音胡桃 - すばらしいねくるみ - Subarashiine Kurumi)

NAME INTERPRETATION:
素晴音(Subarashiine; Fantastic/wonderful sound. Also a play on "Subarashii, ne?", meaning "Isn't it wonderful?)
胡桃 (Kurumi; Walnut)
TYPE: Canadian Series UTAUloid
MODEL: 02
GENDER
FEMALE
VOICE RANGE
C3-C5
RELATED CHARACTERS
Kira Subarashiine (younger brother)
Len Kagamine (idol)
Luka Megurine (rival)
AGE
17
GENRE
VARIOUS
HOMEPAGE
http://www.subarashiinekurumi.blogspot.com/
WEIGHT
133 lbs (60.5 kg)
CHARACTER ITEM
Lolipop
CREATORS
Yorunai and Narukeka
HEIGHT / MEASUREMENTS
5'6" feet (167.6 cm) /
B: 36.5 in ( cm) /
W: 25.45 in (64.6 cm) /
H: 31 in (78.7 cm)
VOICE SOURCE
Yorunai
PICTURE LINK LIST
CONCEPT ART , ART FOR LOVE IS WAR, ALICE HUMAN SACRIFICE 1 & 2, PIAPRO, PIXIV, DEVIANT ART, GELBOORU, GOOGLE IMAGE, PHOTOBUCKET
BIRTHDAY
July 7, 1993
LIKES
Other UTAUloids, duets, sushi, relaxing and cheering up others.
MEDIA LIST
NICO NICO DOUGA, YOUTUBE
RELEASE DATE
January 23, 2010
DISLIKES
Vocaloid supremacists.
SIGNATURE SONG
Alice in Dreamland
PERSONALITY: Kurumi is very much the opposite of her brother, Kira, as she is generally a very upbeat and happy person. She is also very laid-back, and it usually takes a lot to get her angry. Assuming she's had a good day, she can be one of the happiest little UTAUloids around. She often looks to others for advice, and in that sense is not very independent, although if required she can make her own decisions. She also loves to make friends, and thrives on being a socialist. Despite her generally childish nature, her voice is mature, and she always likes to try and snap up the leading role in a duet or chorus.
Additional Information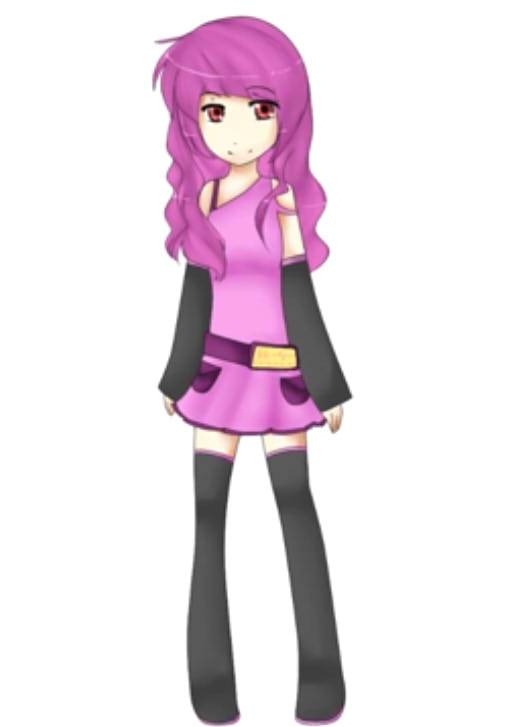 Kurumi's colour scheme is set mainly on pink and black; most of her outfit is pink and black, while her hair is also pink and her eyes are red. Her main character item is a lolipop, but she is also sometimes shown to have glasses - these are considered a second character item, and are completely optional. Her shoes are thigh-high black boots with a strip of pink at the bottom.
While she has sung Magnet (a song usually used to depict a romantic pairing) with Hatsune Miku, she is considered 'single' and is not romantically paired with anyone. She does have a few friends, though. The three Sotoune UTAUloids (Sotoune Amaru, Ayame and Ayamari) are considered her 'best friends', and she often sings with Amaru. She has also sung a few times with Shizune Neku.
Kurumi's younger brother, Subarashiine Kira, is also a common duet partner. To hear his voice, check out Narukeka on Youtube.
Kurumi's character design is done by IceValaxy of deviantART.com.
Voice Configuration
Kurumi's voice is set to work in both romaji and hiragana. She is most commonly used with a genderbend of -2 to -5, and this sets her vocal range as medium-low to medium-high. Without g-, she can also be used as a medium to low UTAUloid, although the higher notes, around A5, are still her stronger points. Her voicebank includes 130 sounds. She includes enough samples to be made to sing relatively comprehensible English. She has sung a few English songs in the past, and should overall be considered bilingual. Her next ACT will include several samples to improve her English pronunciation.
Her unnamed male genderbend is at g+7. Since Kurumi's voice is already fairly low, +7 is all that is needed to achieve a male voice.
Her latest voicebank can be downloaded at http://www.mediafire.com/?h6d5jpyz59qk8rf
Please note that while Kurumi's voicebank is often updated without prior announcement, this link will always lead to the latest update.

Information seen in this page has been provided by the author. This page is subject to change without prior notice.