KUTSUSHITA PANKA

(Japanese: くつしたぱんか - 靴下ぱんか - Kutsushita Panka)

NAME INTERPRETATION:

くつした (Kutsushita - socks

ぱんか (Panka - people who are constantly off the wall and excited

TYPE: UTAUloid, MAIKYAloid

MODEL: 08 (Resembling him being the 8th in the series).

GENDER

We Really Don't Know

VOICE RANGE
F#3~A4
RELATED CHARACTERS

Toki Imo (Girlfriend)

Ken Shippai (Close Friend)

Taiko Imo (Scared Of)

Haruka Shippai (Brother-Figure)

Yume Yuuki (Rival)

Ratimaru Kayaku (Teacher)

Hana Mimiza (Friend)

AGE
15
GENRE
n/a
HOMEPAGE
NONE
WEIGHT
128 lbs (58.05 kg)
CHARACTER ITEM
Waffles
CREATOR
Lasaillax
HEIGHT
5'11" (180.33 cm)
VOICE SOURCE

Lasaillax

PICTURE LINK LIST
BIRTHDAY
March 6, 1995
LIKES
Crafting, Purple, Music, Porn, and Social Studies
MEDIA LIST
RELEASE DATE
March 21, 2016
DISLIKES
Incest, Running, Milk, His Accent, and Heights
SIGNATURE SONG
n/a

PERSONALITY: Panka is a very hostile kid whos dream is not to annoy people. He is very confused about most things even including what gender he is. He does not have much sense of knowledge but he does sing only occasionally to Toki and or the other MAIKYAloids.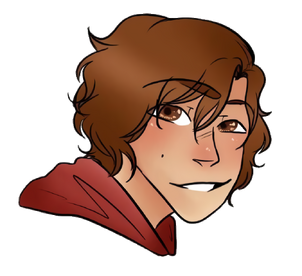 ==Supplemental Information==
Hair color: Dark Brown.
Headgear: n/a
Eye color: Brown with a darker brown rim.
Earphones: Earbuds he usually wears but not on concept.
Dress/Outfit: A red sweatshirt with the Dutch word "Neuken" on top of a light yellow smiley face (which appears to be lifeless). The sweatshirt has a rainbow in the lower right corner and on both sleeves the sweatshirt has 5 horizontal dark red lines followed by a dark brown cuff. Blue jeans with cyan and purple shriped leggings with yellows stars at the top and black and gray socks.
Nationality/Race: Dutch-American
Catchphrase: "Fuck me in the ass.", "Yo biznatch, you just bit it, so now you gonna get some pankas, BIZNATCH!!" or "Do I have a cervix??".
Voice Configuration 
Panka is a Windows-Based UTAUloid that was recorded in Audacity then later put into the program. Panka has a noticable accent due to the fact the creator wanted him to be somewhat different then Ken (and how they wanted to be Dutch but doesn't know how to).
His ACT 1 can be downloaded here.
Other banks including an upcoming VCV and append will be available in the future.
Usage Clause
This article is written and certified true and correct by the author of the character. The details seen here may be subject to change without prior notice.
Ad blocker interference detected!
Wikia is a free-to-use site that makes money from advertising. We have a modified experience for viewers using ad blockers

Wikia is not accessible if you've made further modifications. Remove the custom ad blocker rule(s) and the page will load as expected.