Kyuuki Koko


(Japanese: きゅうき ここ- Kyuuki Koko)

NAME INTERPRETATION:
きゅうき (Kyuuki; ) - none
ここ (Koko; ) - none

TYPE: UTAUloid, JEEVALOID (UTAUs created by Catt)
MODEL: J-2
GENDER
Genderless (portrays herself as female)
VOICE RANGE
270.8 Hz (C#4)
RELATED CHARACTERS
AGE
17
GENRE
Depends on the bank
HOMEPAGE
NONE
WEIGHT
120 pounds
CHARACTER ITEM
Carrots, her camera
CREATOR
Mishakitty22/Catt
HEIGHT / MEASUREMENTS
5'2
VOICE SOURCE
Mishakitty22/Catt
PICTURE LINK LIST
Cookie-Catt on dA
BIRTHDAY
7/8
LIKES
nature, photography, making friends, cuddling, animals, playing outside, forests.
MEDIA LIST
MishaKitty22 on YT/Grumpy-Catt on SC
RELEASE DATE
7/8/2011
DISLIKES
Geese, staying inside all day.
SIGNATURE SONG
NONE
PERSONALITY: She's very friendly, creative and quirky. She spends most of her time taking pictures and often gets lost trying to chase down someone/something she wants to take a photo of. She's rather ditsy and clumsy, having her brothers look out for her most of the time.
Character Design
Hair color: Neon Green
Eye color: Yellow
Nationality: French-Japanese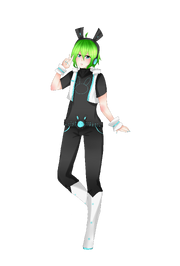 Voice Configuration
ACT4 CV: http://www.mediafire.com/download/49w3i9pd4gefv3b/Kyuuki_Koko_ACT4.rar
HOTARU/ACT5 Tripitch CV: http://www.mediafire.com/download/vjhi3h8gj70ez57/Kyuuki_Koko_HOTARU.rar
NOTE: The OTOs were rushed because Catt has trouble with CVs, so ACT4 is better quality in that way.
VCV1.0: http://www.mediafire.com/download/92evzxq5wseo9nd/Kyuuki_Koko_VCV.rar
AMIE/VCV2.0 Tripitch: WIP
To get her genderbend/brother, Kumoai, add a g12 flag on any of her banks. Bank-specific flags will be in the readme.
Usage Clause
Do NOT use her voicebank(s) for any character but her own
Do NOT Pitch, edit, or add extreme gender flags above g5 and below g-5 (other than the ones for Kumoai) without permission.
Do NOT use her for anything involving discrimination or prejudice.
You may use her for sexual and/or violent songs, but please do not draw her in a sexual way.
Ad blocker interference detected!
Wikia is a free-to-use site that makes money from advertising. We have a modified experience for viewers using ad blockers

Wikia is not accessible if you've made further modifications. Remove the custom ad blocker rule(s) and the page will load as expected.