KYUUKI MITSU

(Japanese:Kyuukiみつ? )

NAME INTERPRETATION:

Kyuuki (Kyuuki) - No meaning みつ? (Mitsu) - Originally shortened from Mitsunari, Mitsu Means Honey

TYPE: VoiceloidMODEL: MC04
GENDER
Male
VOICE RANGE
D2-D6
RELATED CHARACTERS

Haru Shonta(Master)

[[1]](Fellow avatarless voice)

AGE
No Official Age
GENRE

Pop Music

Rock?

HOMEPAGE
WEIGHT
No Official Weight
CHARACTER ITEM
MicrophoneStand
CREATOR
Suki Maru
HEIGHT / MEASUREMENTS
None
VOICE SOURCE
Suki Maru.
PICTURE LINK LIST
BIRTHDAY
LIKES
MEDIA LIST
Youtube
RELEASE DATE

September

3rd 2012?

DISLIKES
SIGNATURESONGS
PERSONALITY: Kyuuki is avatarless which means he has no official design. Leaving his face and body to the imagination. The only officially confirmed things about him are his Gender and Name.
Supplemental Information
Hair color:NONE
Headgear:? None
Eye color: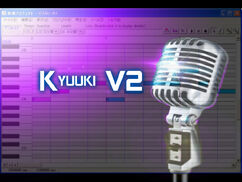 None.

Headphones:None

Nationality/Race:? Android??.
Favorite phrase:? 私は今歌います (I will sing now)
---
Voice Configuration-------------

Kyuuki is designed for Japanese only. But he is encoded in both Romaji and Hiragana. English Words can be formed using Japanese. But it's akward sounding and not recommended.
11/25/12
It has been announced that Kyuuki will ? have a new update called "Kyuuki V2" It will have two voicebanks "English" and "Native". Native being a update of Kyuuki's first voicebank. Demos of both voicebanks were released on the 25th of November.? Can be found here? And English being a English VB,the demo for this voicebank can be found? Here . Both are still in heavy development.
Usage Clause
Contact Kid4Flash on YT to see what is appropriate.
Voicebank
Kyuuki's First Voicebank can be found? Here
Ad blocker interference detected!
Wikia is a free-to-use site that makes money from advertising. We have a modified experience for viewers using ad blockers

Wikia is not accessible if you've made further modifications. Remove the custom ad blocker rule(s) and the page will load as expected.