Leo


(Japanese: Leo - レオ - Leo

)

ALIAS: L.E.D


TYPE: NONE
MODEL: NONE
GENDER
Male
VOICE RANGE
He has a more feminine and childlike sounding voice.
RELATED CHARACTERS
None
AGE
Forever 14
GENRE
He usually does cute sounding music.
HOMEPAGE
http://utau.wiki/utau:l-e-d
WEIGHT
92 Ibs
CHARACTER ITEM
A gigantic glowstick (Not shown in picture)
CREATOR
Utau-Tamer
HEIGHT / MEASUREMENTS
4'11"
VOICE SOURCE
Utau-Tamer
PICTURE LINK LIST
http://utau-tamer.deviantart.com/
BIRTHDAY
January 1
LIKES
Cute Stuff, Sweets, Nature, and Being With Friends.
MEDIA LIST
https://www.youtube.com/channel/UCu3U4RzHu7oM_zadDRfWmgg
RELEASE DATE
February 28, 2017
DISLIKES
Really Manly Clothes, Sour/Spicy Food, Being Bossed Around, and Being Bored/Lonely

.

SIGNATURE SONG
N/A
PERSONALITY: He is a very understanding person and loves to help out. He dresses really girly but he hates being mistaken for a girl and often gets into fights because of it. He usually has cuts and bruises on him which is also why he is pictured with bandaid patches in most of his pictures.  
Supplemental Information
Hair color: His hair is a peachy-orange color.
Headgear: A pink and blue hat.
Eye Color: Peachy-orange like his hair.
Earphones: None
Main Outfit: A grey shoulderless shirt with blue and red stripes down the sleeves that glow. A pink plaid skirt and leggings with red and blue circles that kind of rise out of the leggings leading down each leg that glow. He also wears pink wedge boots with a blue bow at the top of each. The wedges on the boots are a pattern of red blue and they also glow.
Nationality/Race: Korean(He grew up in japan though.)
Favorite phrase: [ あなたはライトショーを見る準備ができていますか?! ] " Are you ready to see the light show?!"
Voice Configuration
So far L.E.D (Leo) only has a simple japanese voicebank. His creator has said that they are currently working on it to make it better.
Notes
Unlike most vocaloids/utauloids L.E.D (Leo) sounds really realistic and despite his age he has a more childish and high pitched voice.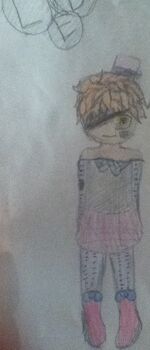 Ad blocker interference detected!
Wikia is a free-to-use site that makes money from advertising. We have a modified experience for viewers using ad blockers

Wikia is not accessible if you've made further modifications. Remove the custom ad blocker rule(s) and the page will load as expected.