L@ST

Japanese (katanaka) : ラオスト - Raosuto

GENDER
Unknow
VOICE RANGE
G3 ~ A#4
RELATED CHARACTER

Aelis - Origin  (same creator)

Aelis, kind of student about life. (same creator)

Misi, great friend. (same creator)

Ciel Sekaine, friend.

AGE
unknow
GENRE

Unknow

HOMEPAGE
No homepage for the moment
WEIGHT

82 kg

CHARACTER ITEM
his gas mask
CREATOR
(Zet)Alphaelis
HEIGHT

184 cm

VOICE SOURCE

Alphaelis

PICTURE LINK LIST
deviantART
BIRTHDAY
Unknow
RELEASE DATE
06.02.2013
MEDIA LIST
YOUTUBE
Design & informations about the character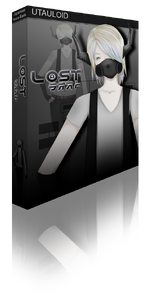 L@ST is a "kuudere" : a cold person, but behind the mask, there is an adorable person... But really behind the mask.
Voice Configuration
TECHNICAL INFORMATION

L@ST
ARCHIVE FILENAME
L@ST
ARCHIVE FILESIZE
46,2 Mo
DATE RELEASED
06.02.2013
NO. OF VOICE PHONEMES
150
TOTAL UNCOMPRESSED SIZE
69 Mo
PHONEME ENCODING
Romaji (Hiragana aliases)
AVERAGE FREQUENCY
G3 ~ A#4
FRQ FILE PRESENCE
YES
LANGUAGES SUPPORTED
Japanese
UNOFFICIAL SUPPORTED LANGUAGES
Japanese
OTO.INI PRESENCE
YES
TUNED OTO.INI
YES
LANGUAGE PARSED VIA OTO.INI
Japanese
VOICEBANK AUTHOR
(Zet)Alphaelis
OTO.INI TUNER
(Zet)Alphaelis
RECORDING SOFTWARE USED
Audacity
DOWNLOAD LINK : HERE

SPECIAL NOTES : Rolling R (noted : rr/*[hiragana])

Usage Clause
All permissions to use voice ands images of L@ST if the works are in accordance with the rules of the UTAU's software.
Ad blocker interference detected!
Wikia is a free-to-use site that makes money from advertising. We have a modified experience for viewers using ad blockers

Wikia is not accessible if you've made further modifications. Remove the custom ad blocker rule(s) and the page will load as expected.